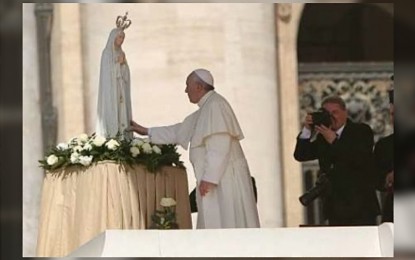 ROME – Pope Francis on Thursday renewed his call for an end to all conflict as the Vatican observed the 150th anniversary of the national pilgrimage to the Marian Sanctuary of Lourdes in France.
In his message, the Holy See has invoked the Virgin Mary to intercede so that "much-desired peace may be established wherever the noise of arms is heard".
He urged that the mother of Jesus "awaken ... genuine sentiments of fraternal love, so that societies grow harmoniously in respect for others, safeguarding their dignity and rights, and so that no one is left by the wayside."
Pope Francis asked the Virgin Mary to comfort all who suffer, are ill, alone, marginalized or exiled, and offered special closeness to the sick and disabled people among the faithful from France and all over the world gathered in Lourdes.
The pope also spared a thought for families, and especially parents, "who bear the daily burden of a heavy responsibility", and young people, "so rich in potential, but often worried about their future, or unfortunately already hindered by many constraints".
He also had a special mention for the elderly, who are "rich in their experience and wisdom" but are "too often, abandoned and neglected". (ANSA)