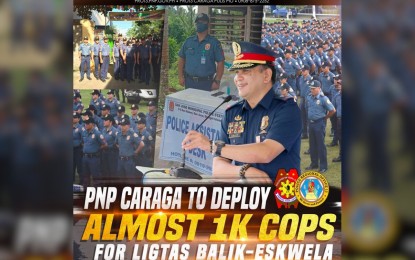 BUTUAN CITY – The Police Regional Office (PRO) 13 (Caraga) has deployed nearly a thousand cops from different units to secure the opening of classes on Aug 29.

In a phone interview on Saturday, Maj. Jennifer Ometer, PRO-13 chief information officer, said 960 personnel were deployed to various areas in the region this week as public schools began the annual Brigada Eskwela.
"These personnel will continue their security functions until next week during the start of the classes in different levels in the region," she said.
Ometer said police assistance desks have been put up near the schools and regular patrols would be conducted in vicinities to ensure zero crime incidents.
"They are also ordered to assist or spearhead the traffic management operations in major streets near the school campuses," she added.
PRO-13 will likewise tap the support of force multipliers in towns and barangays, such as the Barangay Tanods.
"Our friendly forces, especially from the Armed Forces of the Philippines, will also provide support to our security measures to ensure the safety of the students, teachers, and parents during the opening of classes," Ometer said.
In a separate statement, PRO-13 Director, Brig. Gen. John Kirby Kraft, said instructions were given to unit and station commanders to attend coordination meetings of the Department of Education, local government units, parents teachers' associations, and volunteer groups to effectively carry out public safety services during the opening of classes.
The provincial offices of PRO-13 have also been tasked to conduct simultaneous exercises, in coordination with school authorities, on possible incidents, such as bomb threats, fires, earthquakes, and other related scenarios.
"We will secure and protect our learning institutions, including the students, teachers, and parents, from criminals and would-be criminals. Our police units will intensify the crime prevention approach, police visibility, law enforcement operations, and police-community partnerships," Kraft said. (PNA)