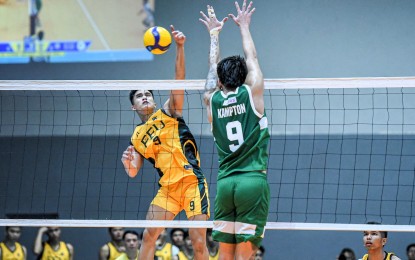 MANILA – Far Eastern University needed five sets to turn back De La Salle University, 25-22, 20-25, 25-23, 16-25, 17-15, in the 2023 V-League Men's Collegiate Challenge at Paco Arena in Manila on Sunday.
Opposite hitter Zhydryx Saavedra topscored with 25 points, all on attacks, while outside hitter Andrei Delicano had 12 spikes, three blocks and one service ace after the two-hour and 36-minute match.
Jomel Codilla, also an outside hitter, finished with nine points to go with 14 excellent receptions.
"'Yung nangyari sa game is make or break din kasi balikatan 'yung laban. Sa mga ganyan din, test of character din ng players kung paano mag-handle na pressured ka (What happened in the game is also make or break because the fight was close. In such situations, it is also a test of character of the players on how they handle the situation under pressure)," FEU coach Ed Ronquillo said after the match.
FEU thus bounced back from its opening-day loss to defending champion National University (NU) on Wednesday, 25-22, 25-22, 25-19.
Outside hitter Noel Michael Kampton produced 18 kills and two service aces for La Salle, while Vince Gerard Maglinao chipped in 17 points.
In the other game, Ateneo de Manila defeated Emilio Aguinaldo College (EAC), 23-25, 25-22, 25-19, 25-16, for its first victory.
Outside hitter Jian Matthew Salarzon came up with 11 attacks, four blocks and three service aces for the Blue Eagles, who will try to make it 2-0 against the San Beda Red Spikers on Aug. 23.
Outside hitter Ervin Patrick Osabel led EAC with 14 kills and two blocks.
Now with a 0-2 card, EAC will be up against formidable NU on Aug. 25. (PNA)