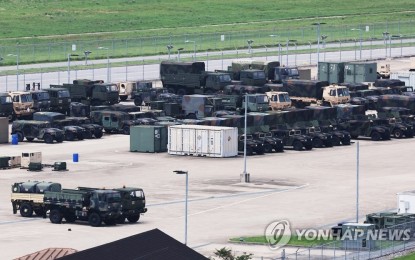 SEOUL – South Korea and the United States kicked off major combined military drills Monday to bolster their joint readiness posture amid heightened tensions from North Korea's missile tests and hardening rhetoric against the allies.
The annual Ulchi Freedom Shield (UFS) exercise, based on an all-out war scenario, began its 11-day run of various contingency drills, such as the computer simulation-based command post exercise, concurrent field training and Ulchi civil defense drills.
The exercise got underway as Pyongyang's state media reported Monday that the country's leader Kim Jong-un oversaw cruise missile tests from a warship in an apparent protest against the drills. It did not disclose the date of the inspection.
Some 30 allied field training events are scheduled to take place during the exercise period, compared with 25 during this year's springtime Freedom Shield exercise and 13 in last year's UFS, according to a Joint Chiefs of Staff (JCS) official.
This year's UFS is known to include scenarios to train troops to swiftly transition into wartime, as well as to respond to false information possibly spread by Pyongyang during wartime or a contingency.
Aside from South Korean and US participants, personnel from nine member countries of the UN Command (UNC) will join the exercise. The countries are Australia, Canada, France, Britain, Greece, Italy, New Zealand, the Philippines and Thailand, according to the U.S. Forces Korea.
The UNC is a key enforcer of the armistice that halted the fighting in the 1950-53 Korean War.
The Neutral Nations Supervisory Commission, an observer of the armistice, will also attend the drills. The commission has representatives from Sweden and Switzerland.
Meanwhile, the South Korean military is strengthening its readiness posture against possible military activities by Pyongyang during the exercise period, such as missile launches.
The North has long accused the allies' military drills of being rehearsals for an invasion against it, with Kim recently calling for a "drastic boost" in the country's missile production capability and for war contingency preparations in an "offensive" manner.
Seoul's spy agency told lawmakers Thursday during a closed-door briefing that the North is preparing various provocations in time for the combined drills, such as an intercontinental ballistic missile launch. (Yonhap)