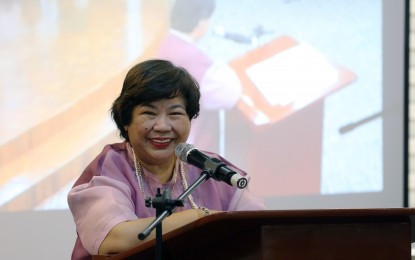 MANILA – President Ferdinand R. Marcos Jr. on Tuesday said the death of Department of Migrant Workers (DMW) Secretary Susan "Toots" Ople is a "great loss to the Philippines."
"It's a very, very sad news. I have lost a friend. The Philippines has lost a friend," Marcos said, reacting to Ople's passing on the sidelines of his visit to the Toyota Special Economic Zone in the City of Santa Rosa, Laguna. "All of us who called her a friend, it is a great loss to the Philippines, to the service that we know she could still have rendered."
He described Ople as a "special person with a deep compassion really for the people that she had cared for, mainly the migrant workers."
"It's a big loss. Ang galing-galing ni Secretary Toots (Secretary Toots is very good). She very much followed in the tradition of Blas Ople tradition of excellence, of compassion. It is a great loss for all of us," Marcos said, referring to the elder Ople who served under his father as Labor chief.
In a statement, the DMW announced that Ople died at around 1 p.m., "surrounded by her family and loved ones."
The DMW also asked for prayers for the eternal repose of Ople's soul, as well as for her family.
"She dedicated her life, in every waking moment, to the welfare of labourers in general and migrant workers in particular. She was tireless in her pursuit to always support and find protection for our workers. There cannot be a better example of the perfect mix of compassion and hard-nosed pragmatism than in Toots. She got many things done in her years of public service, and all for others, never for herself. I grieve together with her family and all those who called Toots a friend. Our prayers are with you," Marcos posted on social media.
Ople was appointed as DMW secretary in June 2022.
She also headed the Blas F. Ople Policy and Training Institute, a non-profit organization that is actively involved in labor and migration issues.
Migrant workers' chief supporter
Ople was a staunch supporter of labor rights and was the "best thing" that happened to migrant workers, according to Philippine Ambassador to the United Kingdom Teodoro Locsin Jr.
Locsin recalled how Ople "tirelessly" worked on behalf of overseas Filipino workers with or without office or means in the past.
"Perfect and irreplaceable fit to head migrants' own department; she worked on their behalf without office or means but her own before then; confused what to do DFA (Department of Foreign Affairs) turned to her in her private commitment to the national good," read Locsin's statement.
He said Ople came from a "short dynasty of the best" and hailed her for continuing the work of her father, one of the framers of the 1987 Philippine Constitution, left.
"His daughter continued his example on her own until the only one who'd think of appointing the obvious best choice to head migrant workers' own department did just that," said Locsin, also recently appointed as Special Envoy of the President to the People's Republic of China for Special Concerns.
"It was the fitting place from which to say goodbye to a life's work. Goodbye, my friend," he added.
Ople underwent surgery for Stage 2 breast cancer in February 2020 but her cause of death was not revealed.
Her elder brothers Toti and Blas Jr. passed away in July at the age of 65 and 71, respectively, both due to lung cancer.
Sympathies
The chanceries of Canada and the European Union (EU) in the Philippines also extended their sympathies to late DMW secretary's family.
Under Ople's leadership at DMW, the Canadian Embassy in Manila said Ottawa and Manila were able to actively discuss ways to collaborate closely in protecting overseas Filipino workers.
"Secretary Ople was a valuable partner in advancing our two countries' common goals in promoting responsible and ethical recruitment, and protecting migrant workers' rights and welfare," it said in a statement.
"Aside from being the champion of OFW rights, Sec. Ople was a staunch advocate against trafficking-in-persons, a thematic priority shared by Canada and the Philippines.
While we mourn her passing, we join her family & colleagues in celebrating her commitment to the protection of migrant workers' rights," it added.
EU Ambassador to the Philippines Luc Veron also recognized Ople's work and sent his condolences to her bereaved family over Twitter.
"I am deeply saddened to learn about the passing of Secretary Susan Ople, who worked tirelessly to ensure the safety and security of Overseas Filipino Workers worldwide," he said. "My heartfelt thoughts go out to her loved ones during this incredibly difficult time." (PNA)