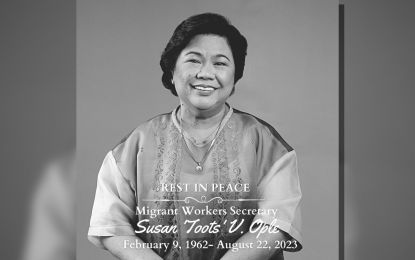 MANILA – Department of Migrant Workers (DMW) Secretary Susan "Toots" Ople died Tuesday at the age of 61.
"Secretary Toots peacefully joined our Creator at around 1 PM today, August 22, 2023, surrounded by her family and loved ones," DMW spokesperson Toby Nebrida said in a statement.
"We shall be releasing more details soon. For the meantime, we ask for prayers for the eternal repose of the soul of our dear Sec. Toots. We ask as well for prayers for the Ople family," he added.
Last July 25, DMW announced that Ople is taking a two-week wellness leave following the consecutive passing of her older brothers, former Hagonoy, Bulacan Mayor Felix "Toti" Ople and former journalist Blas F. Ople Jr., both due to lung cancer.
Ople said she needed time to grieve, be with her family, as well as look after her own wellness.
In February 2020, she underwent surgery for Stage 2 breast cancer.
President Ferdinand R. Marcos Jr. appointed Ople to head the newest department of the government at the start of his administration.
A staunch advocate of overseas Filipino workers' (OFW) rights, Ople founded the Blas Ople Policy Center (BOPC), named after his father, which assists distressed OFWs in various parts of the world.
The elder Ople served as Labor chief during the administration of Marcos Sr.
Lawmakers cite Ople's contribution to protect OFWs
House Speaker Ferdinand Martin Romualdez likewise mourned Ople's death, saying migrant workers have lost a great champion with her passing.
"Migrant workers, and workers in general, have just lost a great and tireless champion in Secretary Ople. She was the first secretary of the department Congress had created to focus on attending to the welfare of millions of overseas Filipino workers," he said in a statement.
In separate statements, other House members expressed their sadness over the passing of the DMW secretary.
"Secretary Ople was a true champion of the Filipino migrant workers. Her passing is a great loss to the entire Filipino nation," Kabayan Party-list Rep. Ron Salo said.
The chairperson of the House Committee on Overseas Workers Affairs said Ople's passion in "promoting and protecting the welfare of every Filipino migrant worker" is truly appreciated and will be greatly missed.
"We hope to honor her life's work by continually advocating for the rights and the protection of the welfare of our Filipino migrant workers. Her legacy will live on," he said.
ACT-CIS Party-list Rep. Jocelyn P. Tulfo said Ople's "commitment, passion and dedication" in serving the country, her fellow Filipinos, and protecting OFWs is truly remarkable and have touched the lives of many.
Huge heart
Senate President Juan Miguel Zubiri described Ople as a "superwoman" with a huge heart for the people.
"She showed us that true leadership is about kindness and compassion, dedicating her life and her career to the least privileged and the least heard," Zubiri said in a statement. "In her honor, we will continue the great gains she has made to protect and uplift our migrant workers and all of our laborers."
Senate Majority Leader Joel Villanueva said the death of Ople is not only a loss of the family or of Bulacan, their home province, but of the entire nation.
"Ngayon lang ako nakakita na tatlong magkakapatid nasawi sa loob ng halos isang buwan (This is my first time to learn of the demise of three siblings in a one-month span)," Villanueva said.
Senate Minority Leader Aquilino Pimentel III said Ople demonstrated unwavering commitment forOFWs.
"I had the privilege of not only working alongside Secretary Toots in a professional capacity but also sharing the airwaves with her as co-anchors on a radio program. She was not just a colleague, but also a friend who I will truly miss," Pimentel said.
Senator Francis Escudero said it will be hard to fill the big void left by Ople, who was a goddaughter of his father, former Agriculture chief and Sorsogon congressman Salvador Escudero. (With a report from Leonel Abasola/PNA)