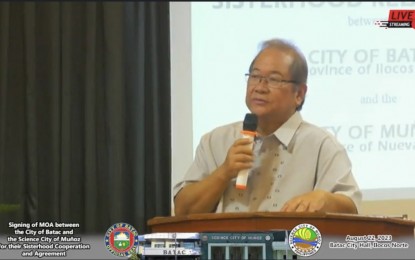 BATAC CITY – This city and the "science city" of Muñoz in Nueva Ecija province on Tuesday forged a sisterhood agreement to strengthen local government cooperation and friendship between the two cities, especially on agriculture, tourism, trade and economy, culture and arts, and science and technology, among others.
Represented by Batac Mayor Albert Chua and Mayor Baby Armi Lazaro Alvarez of Muñoz, the signing of the memorandum of agreement (MOA), witnessed by city officials and department heads of both cities, was held at the session hall of Batac City.
In welcoming the delegates, Batac Vice Mayor Windell Chua expressed hope the new alliance will bring more progress and development to both cities.
"I believe the science city of Muñoz has so much to offer as well as Batac City. As the world evolves rapidly, we need a heightened exchange of ideas for the betterment of our people," he said.
The MOA stipulated that both parties should enhance the mutual understanding and friendship between the two cities, and seek to establish friendly cooperative relations based on the principles of equality and mutual benefit, and cooperate to develop agriculture, tourism, culture, education, trade, and commerce.
The two cities are also expected to establish information-sharing mechanisms of activities related to their common interest.
Muñoz is one of the five cities in Nueva Ecija along the central plains of Luzon. It is considered as the first and only "science city" in the Philippines, with several research and development institutions on agricultural science and technology.
Locals and tourists enjoy its various agricultural products and cultural heritage, especially during the "Uhay Festival: Ani ng Sining at Agham," which celebrates its bountiful harvest and technological innovations.
Popularly known as the "Home of the Great Leaders," Batac, meanwhile, has earned the title because three prominent people, who rendered notable services to the country, once lived here.
These are former President Ferdinand E. Marcos Sr., who was born in Sarrat town but spent most of his life in Batac City; Bishop Gregorio Aglipay; and General Artemio Ricarte. (PNA)