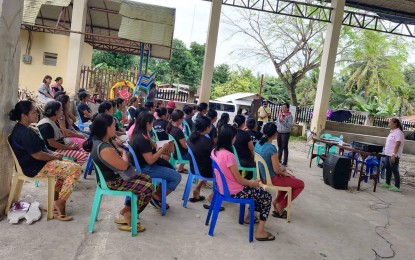 MANILA – The House of Representatives on Tuesday approved on the third and final reading House Bill (HB) 8497, which seeks to achieve sustainable development by promoting inclusive education among adult Pantawid Pamilyang Pilipino Program (4Ps) beneficiaries through the alternative learning system, entrepreneurship and employment training.
The measure, which got 236 affirmative votes, zero negative votes and zero abstentions, amends for the purpose Republic Act (RA) 11310, or the Pantawid Pamilyang Pilipino Program Act.
It provides for Community Mobilization Grants (CMG) of not less than PHP500 per instance, per adult beneficiary of the adult education program.
The CMG is a conditional cash transfer grant that shall be used to finance meals and transportation related to the availment of adult education by 4Ps beneficiaries.
This will be on top of the current conditional cash transfers granted per child enrolled in basic education as provided in RA 11310.
HB 8497 encourages at least one adult beneficiary from every 4Ps household to join and complete any of the following tracks of adult education: non-formal education through the Alternative Learning System (ALS) of the Department of Education (DepEd); entrepreneurship track of the Department of Trade and Industry (DTI) and Department of Social Welfare and Development (DSWD); or employment track of the Technical Education and Skills Development Authority (TESDA), or their accredited private sector and civil society organizations.
The ALS track refers to a parallel learning system that provides a viable alternative to the existing formal education instruction and encompasses both non-formal and informal sources of knowledge and skills.
Meanwhile, the entrepreneurship track refers to interventions that focus on the establishment of micro-enterprise through the enhancement of skills, provision of financial capital and building or re-building physical and natural assets, and which covers product development, marketing, and basic business finance.
On the other hand, the employment track refers to programs through which learners and workers are provided with learning opportunities to acquire, upgrade, or both, their ability, knowledge, and behavior pattern required as qualifications for a job or range of jobs in a given occupational area.
The proposed measure provides that the availment of adult education shall commence in the second year of enrollment in the 4Ps.
HB 8497 further prioritizes adult beneficiaries who succeeded in their selected track of education in the availment of government modalities and interventions.
Those who completed the entrepreneurship track shall be given assistance by the DTI to ensure ease of establishing a micro or small business enterprise and the link to the target clientele of the 4Ps entrepreneur.
Meanwhile, beneficiaries who completed the employment track shall be given job facilitation assistance by the Department of Labor and Employment (DOLE).
Those who completed non-formal education using the ALS track by the DepEd until they finish senior high school shall be given assistance to ensure their pursuit of higher learning or employment. (PNA)