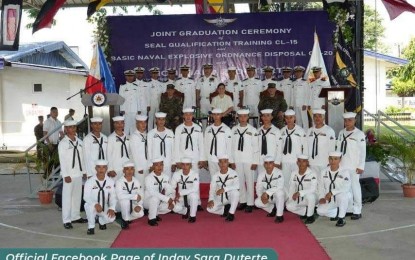 MANILA – Vice President Sara Duterte underscored on Wednesday the role of special operations forces as strong partners in securing the country's sovereignty and protecting its democracy.
Duterte was invited as the guest of honor at the Philippine Naval Special Operations Command (Navsocom) Joint Graduation Ceremony of the Sea, Air, Land (SEAL) Qualification Training (SQT) Class 15 and Basic Naval Explosive Ordnance Disposal Course (BNEOD) Class 20 at Naval Base Heracleo Alano in Sangley Point, Cavite.
The Vice President described the 30 SQT Class 15 and 15 BNEOD Class 20 graduates as "the latest batch of warriors" who have undergone rigorous training that is considered as one of the toughest military selection programs in the world.
She also acknowledged the efforts of the special operations forces in advocating for national security over the past years, from rescuing hostages from terrorists and liquidating a high-ranking terrorist leader in Mindanao to raiding a narcotics laboratory in Manila.
"Truly, you have played a significant role in the fight against terrorism, insurgency, and other national security challenges. These displays of bravery and heroism have confirmed our faith in your capacity in dealing with modern-day threats to our national security," Duterte said.
The importance of special operations, Duterte said, will increasingly grow as the country confronts greater threats to national security and the international geopolitical landscape continues to evolve.
"I am confident you will become invaluable assets to Navsocom and the Philippine Navy as you dedicate your skills to safeguarding our country from all foreign and domestic threats," she added.
Instructors and staff of Navsocom were also recognized by Duterte for their commitment and hard work in preparing the graduates for a life of selfless service for the greater good of the nation.
The Navsocom is a special operations unit of the Philippine Navy that specializes in sea, air, land operations ranging from reconnaissance, close combat, demolition, intelligence and underwater operations in support of overall naval operations.
Duterte was also invited as the guest of honor of Navsocom's 66th founding anniversary last year. (PNA)