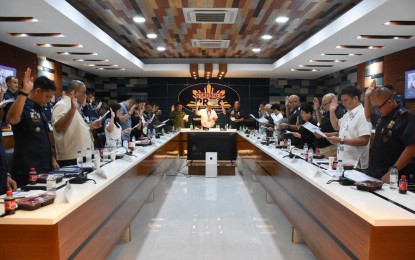 ILOILO CITY – A body that will oversee the implementation of the security plan and other activities about the conduct of the 2023 Barangay and Sangguniang Kabataan Elections (BSKE) in Western Visayas was activated simultaneously with their coordinating meeting held at the regional headquarters of the Police Regional Office 6 (PRO-6) in Iloilo City on Tuesday.
"The Regional Joint Security Control Center (RJSCC) is composed of the Comelec (Commission on Elections), the Armed Forces of the Philippines, and the Philippine National Police. This is the body that implements the policy on gun ban and grants the exemptions and the availment of security detail. We already activated that," Comelec Regional Director for Western Visayas Atty. Dennis Ausan said in an interview on Wednesday.
Ausan said the election period will start at 12:01 in the morning on Aug. 28, and there are prohibited acts throughout the period, one of which is the gun ban.
It means that carrying firearms, explosives and even bladed weapons is not allowed if they have no certificate of authority from the Committee on the Ban on Firearms and Security Concerns (CBFSC).
Those who see the need to carry or transport firearms or avail security detail can apply online, Ausan said.
The regional election officer said they would also reactivate their security monitoring center to check on events related to the management of elections.
In addition to the activation, Ausan said they also signed their joint security plan with the Philippine Coast Guard (PCG) for its role in maritime security, including the deployment of election paraphernalia and sometimes election returns to island barangays.
"We need an effective and efficient deployment of supplies and even personnel. That is why we finalized our security plan yesterday," Ausan said.
Ausan said currently they have not seen any security concerns, especially since the filing of the certificate of candidacy is yet to begin on Aug. 28.
"We cannot even come up with the list of election watchlist areas (EWAs) because one of the perimeters of classifying a certain area as an EWA, there must be an intense political rivalry," he said.
Ausan, meanwhile, urged those planning to run for posts in these elections to, as early as now, prepare their certificates of candidacy (COCs) as they expect an influx during the first day of the filing.
He said they could go to the Comelec office in their locality to have their COCs checked so they won't encounter problems during the filing period, which is on Aug. 28 to Sept.1. (PNA)