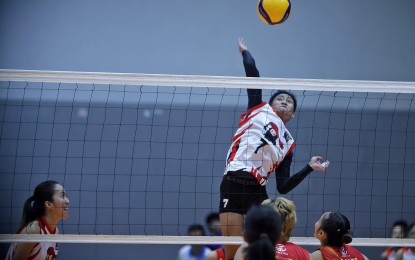 MANILA – Opposite hitter Jelaica Faye Gajero scored 23 points, 22 on attacks as the University of the East (UE) rolled to its second straight win in the 2023 Women's V-League Collegiate Challenge at the Paco Arena in Manila on Wednesday.
Middle blockers Riza Nogales and Keshia Marie Famulagan also registered double-digit scores for the Lady Warriors, who pulled off a 25-17, 25-18, 21-25, 25-16 victory over the Mapua Lady Cardinals.
Nogales scored 12 of her 14 points on attacks while Famulagan chipped in 11 points, including four service aces and two blocks.
Opposite hitter Mary Christine Ecalla contributed nine points, including two blocks and two service aces, while Casiey Monique Dongalo also finished with nine points.
Team captain Kizzie Madriaga only had three points but made 13 excellent sets.
Opposite hitter Raisa Janel Ricablanca led the Lady Cardinals with 19 points, 17 on attacks.
Middle blocker Alyanna Nicole Ong scored nine points, including two blocks and one service ace, while Roxie dela Cruz had eight attacks.
UE is now tied for the lead with Far Eastern University at 2-0. (PNA)