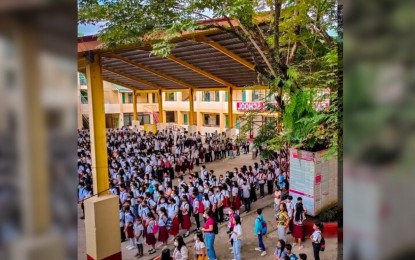 TACLOBAN CITY – Nearly 900,000 elementary and high school students in Eastern Visayas have already signed up, days before the opening of a new school year, the Department of Education (DepEd) reported.
As of Friday noon, some 895,490 have been enrolled in over 4,000 campuses in six provinces, representing 67 percent of the 1,319,785 in actual enrollment in the past academic year, said Mark Lito Gallano, DepEd Eastern Visayas regional planning officer, in a press briefing here.
The number of enrollees is expected to increase come Tuesday when the school year 2023-2024 formally opens, Gallano said.
"This is just a quick count. We're expecting that by August 29, this number will change since more children have been processing their enrollment," Gallano told reporters.
Based on DepEd Order No. 22 signed by Vice President and Education Secretary Sara Duterte, the enrollment for the upcoming academic year will be from Aug. 7 to 26, 2023.
DepEd regional partnership focal person Eden Dadap said all schools in the region, except one in the town of Burauen, Leyte, are ready to welcome back learners on Aug. 29.
Dadap was referring to Maghubas Elementary School in Burauen town where a property claimant built some structures inside the campus and attempted to close the school.
"We are 100 percent ready after the conduct of Oplan Brigada Eskwela with the support of our different stakeholders," Dadap said.
On Aug. 14 to 19, the region's 4,469 public and private elementary and secondary schools joined the Brigada Eskwela, underscoring the country's volunteer initiatives.
The activity seeks to ensure a clean, safe, inclusive and child-friendly learning environment for learners and teaching and non-teaching personnel and strengthen resiliency of schools and basic education.
Dadap revealed that the campaign has mobilized 7,713 partners all over the region and generated PHP53.2 million worth of donations.
Meanwhile, the DepEd regional office will monitor the compliance of schools on the directive of Duterte that "classroom walls shall remain bare and devoid of posters, decorations, or other posted materials."
"With the provision of technical assistance from our regional office, we are hopeful that our division offices will monitor the compliance of this order. Teachers are not supposed to spend a lot to decorate their classrooms," Dadap added.
Duterte earlier explained that "classrooms should be clean so that the attention of our students is in their teacher, their book, or their activity." (PNA)