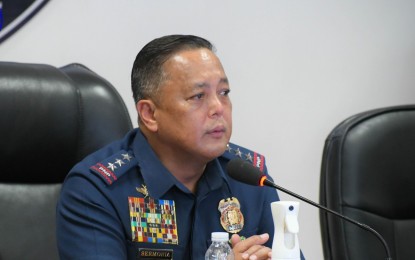 CEBU CITY – A ranking Philippine National Police (PNP) official lauded on Friday the effective drug reduction strategies of the authorities in Central Visayas (Region 7) through the simultaneous anti-criminality and law enforcement operations anchored on the BIDA (Buha'y Ingatan, Droga'y Ayawan) program principles.
Lt. Gen. Rhodel Sermonia, PNP deputy chief for administration, visited Police Regional Office-7 in this capital city as part of his trip in the Visayas to check on the ongoing BIDA program in Western, Central and Eastern Visayas regions being pushed by the Department of the Interior and Local Government.
Sermonia commended the "full commitment and support of the Philippine National Police to the BIDA Program of Secretary Benjamin Abalos, Jr., through the implementation of different police-community programs that uplift the moral and spiritual development of the anti-drug advocates."
"I assure that the police force will continue to amplify the drug reduction strategies with the active participation of the civil community, stakeholders, and other government and non-government agencies," he said.
He reminded the commanders on the ground to strictly observe the doctrine of command responsibility and follow the police operational procedure in performing their duties and responsibilities to avoid any infractions.
Lt. Col. Gerard Ace Pelare, spokesperson of PRO-7 chief, Brig. Gen. Anthony Aberin told the Philippine News Agency (PNA) that the PNP national headquarters sent Sermonia to measure the implementation of the anti-drug campaign strategies of the Marcos administration, through the BIDA program.
Pelare said the program was launched last July 29 in Lapu Lapu City and attended by more or less 28,000 community members from different sectors.
"This is one of the biggest gatherings of anti-drug enthusiasts in the country," he added.
The national version of BIDA program was launched in the PNP headquarters on October 22, 2022.
On Aug. 17 to 23 law enforcement operations, the police in the region confiscated over PHP15 million worth of illegal drugs, mostly shabu. (PNA)