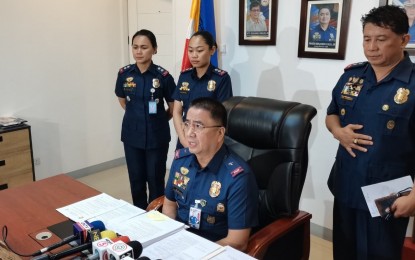 MANILA – The Philippine National Police (PNP) on Monday announced that it has revoked the permits to own and carry firearms outside the residence of a motorist who figured in a viral confrontation with a bicycle rider in Quezon City last Aug. 8.
In a statement, Brig. Gen. Benjamin Silo Jr., director of the PNP-Civil Security Group (CSG), said the License To Own and Possess Firearm (LTOPF), Firearm Registration (FR), and Permit To Carry Firearms Outside Residence (PTCFOR) of the motorist were already revoked.
"As a reminder to all licensed citizens, it is of utmost importance to be responsible gun owners at all times. The possession and ownership of firearms are not absolute rights but rather a privilege," said Silo.
In a press briefing at the Quezon City Police District (QCPD) headquarters in Camp Karingal on Sunday, the motorist who identified himself as Wilfredo Gonzales said he had already surrendered his gun to the QCPD and expressed readiness to accept the decision of the PNP with regard to his gun ownership.
Meanwhile, PNP public information office chief Brig. Gen. Redrico Maranan said that based on their records, Gonzales owns three pistols.
"'Yung tatlong baril as a matter of procedure pagka nakansela yung or narevoke yung iyong LTOFP ay susulatan ka para yung mga baril mo ay iturn over mo sa Firearms Explosives Office. Pag hindi mo isinurrender yun ay kukunin namin yun (As a matter of procedure, as for the three guns with cancelled or revoked LTOFP, he would receive a letter from us asking him to turn over these to the Firearms Explosives Office. If you don't surrender them, we would confiscate them) by way of search warrant," Maranan said in a radio interview.
Gonzales was the motorist who was captured in a viral video hitting a bicycle rider and later pulled out a gun.
In the same briefing, he said he already settled with the bicycle rider.
Despite the agreement, the PNP deems Gonzales' action as a ground to strip him of gun privileges.
"The PNP reserves the authority to revoke LTOPF, Firearm Registration, and PTCFOR, especially in cases where there are grounds for revocation and cancellation," Silo said.
He added that measures will be continuously taken to maintain the integrity of the country's gun licensing system.
Meanwhile, PNP chief Gen. Benjamin Acorda Jr. also underscored the importance of responsible firearm ownership for all licensed citizens.
He said the possession and ownership of firearms are not unrestricted privileges but rather earned rights that come with significant responsibilities.
"Let this incident serve as a clear reminder that owning a firearm is a privilege that demands adherence to the law and the highest ethical standards. We urge all gun owners to reflect on their responsibilities and ensure that their actions consistently reflect the values of respect, accountability, and security," Acorda said in a separate statement. (PNA)