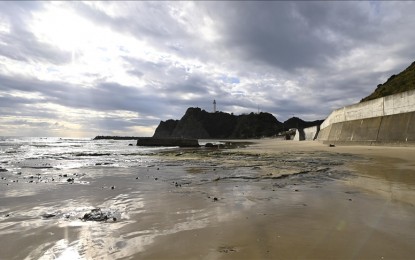 ANKARA – Seawater radiation levels are below "detectable limits," off Japan days after the country started releasing treated radioactive wastewater from the wrecked Fukushima nuclear plant into the Pacific Ocean, Tokyo said on Sunday.
Concentrations of tritium — a radioactive material that cannot be removed even after treatment — were at levels that "would have no adverse impact on human health and the environment, the Japanese Environment Ministry said, citing tests on the first seawater samples gathered on Friday morning, Tokyo-based Kyodo News reported.
Tokyo began releasing water from the Tsunami-hit Fukushima plant into the Pacific Ocean on Thursday, sparking protests not only in Japan but neighboring countries, particularly China.
Beijing has already banned seafood imports from the archipelago nation.
Tritium levels at all 11 sampling points located within 40 kilometers (about 25 miles) of the Fukushima plant were under 7-8 becquerels per liter, according to the Environment Ministry.
Levels of Cesium, also radioactive, checked at three of the 11 points were also below detection limits, it added.
Tokyo plans to release about 1.25 million tons of treated water into the ocean as part of a bid to decommission the power station devastated by a deadly 2011 tsunami.
Currently, 1.32 million tons of contaminated water is in storage at the site in northeastern Japan within over 1,000 huge tanks — enough to fill more than 500 Olympic-size pools.
Ruined power plant
Fukushima's power supply and cooling systems were badly damaged by the 2011 tsunami, causing its reactor cores to overheat and contaminate water within the plant with highly radioactive material.
Since then, new water has been pumped in to cool the fuel debris in the reactors. Furthermore, ground and rainwater have leaked in, creating more radioactive wastewater that now needs to be stored and treated.
According to the International Atomic Energy Agency (IAEA), nuclear power plants worldwide release treated water containing low-level concentrations of tritium and other radionuclides in a controlled manner.
In contrast to other radioactive materials like cesium and strontium, tritium poses little risk to human health and the environment as its radiation is very weak and cannot penetrate human skin.
Many experts reckon that it is unlikely can accumulate in a living body. (Anadolu)