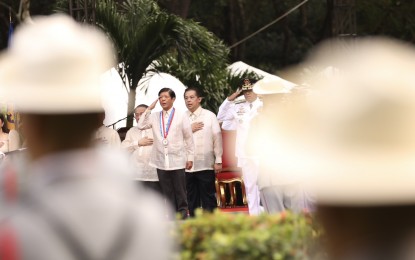 MANILA – As the nation observes National Heroes Day, Speaker Ferdinand Martin G. Romualdez on Monday recognized the farmers and workers, particularly the overseas Filipino workers (OFW) for their immeasurable contribution to the economy.
"Today, we remember the bravery, courage and patriotism of our heroes who fought for our independence, liberty, democracy, sovereignty, our country, our people. To them, we owe our freedom," he said.
He said while the country commemorates the patriotism of brave soldiers who died for the nation's independence and freedom, the Filipinos should also recognize the sacrifices of laborers and OFWs, who are oftentimes called "modern day heroes," for working tirelessly for their families and for contributing immensely to the economy.
Romualdez pointed out that along with workers, "we salute our employers, our entrepreneurs - big, small, medium, micro - who serve as drivers of economic growth."
"We acknowledge as well the arduous daily toil of our farmers and fisherfolk in support of their loved ones and country's food requirements. They, too, are our heroes," he added.
Romualdez likewise paid tribute to the country's national leaders, soldiers, policemen, teachers, government personnel, local officials and barangay officers, for their heroism in safeguarding the nation, keeping the peace and delivering vital public services.
He joined President Ferdinand R. Marcos Jr. during the celebration of National Heroes Day at the Libingan ng mga Bayani in Taguig City.
"We salute every Filipino who does his share in building our nation. Most of all, we honor our women who tend to our families and households. They are our greatest heroes," he said. (PNA)