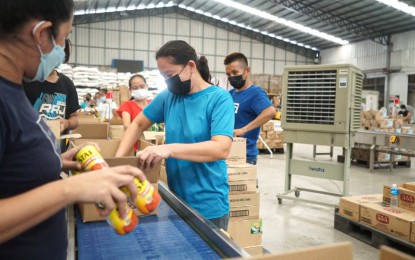 MANILA – The Department of Social Welfare and Development (DSWD) on Tuesday began dispatching thousands of family food packs (FFPs) to flooded areas in the Visayas and Mindanao.
This after DSWD Secretary Rex Gatchalian directed the agency's Disaster Response and Management Group (DRMG) to immediately send 39,000 FFPs to Western Visayas (Region 6), Eastern Visayas (Region 8), and Northern Mindanao (Region 10).
DRMG Assistant Secretary Marlon Alagao told the DSWD chief of coordinating with the Visayas Disaster Resource Center (VDRC), "which can prepare 39,100 FFPs for dispatch Tuesday until Thursday."
The VDRC is the counterpart of the National Resource Operations Center based in Pasay City. The VDRC is located in Tingub, Mandaue City, Cebu province, which is the center of the Visayas region.
The VDRC uses an enhanced mechanized production system - composed of rice bagging machines, case erectors, packaging conveyor lines, pallet building and loading system, and pallet racking system - which boosts the center's capacity to rapidly produce family food packs.
Alagao reported to Gatchalian that based on the VDRC schedule, 11,700 FFPs will be dispatched Tuesday to Field Office-6, which covers the provinces of Aklan, Antique, Capiz, Guimaras, Iloilo and Negros Occidental, and the two highly urbanized cities of Bacolod and Iloilo.
"We expect the FFPs bound for Western Visayas to reach DSWD Field Office-6 on Wednesday," he said.
Also on Wednesday, 12,900 boxes of FFPs are scheduled for delivery to Field Office-10 which covers the provinces of Lanao del Norte, Camiguin, Misamis Occidental, Misamis Oriental, and Bukidnon.
Meanwhile, 14,500 boxes of FFPs bound for Region 8 will be dispatched by the VDRC on Thursday, according to the DRMG. (PNA)