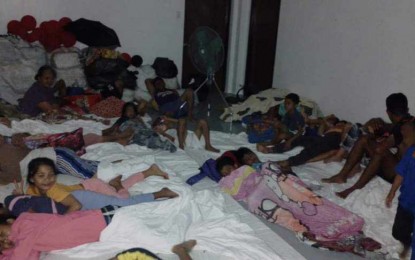 SAN JOSE DE BUENAVISTA, Antique – Work at the provincial government and classes in 18 municipalities of Antique are suspended due to heavy rains caused by the southwest monsoon and enhanced by Typhoon Goring on Tuesday.
Antique Provincial Disaster Risk Reduction and Management Officer (PDRRMO) chief Broderick Train said the province has experienced heavy rains since Monday.
"We urge the public to stay in their homes for their own safety," Train said.
With the inclement weather, he said the Antique Emergency Operation Center has been on red alert since 6 a.m. Tuesday when the PDRRM council has to observe the highest level of monitoring, reporting and readiness to respond in case of emergencies.
Train also said the public should immediately coordinate with their municipal DRRMOs in case of a need for immediate evacuation.
"There were already LGUs that implemented pre-emptive evacuation since the afternoon of Monday, Aug. 28," Train said.
The PDRRMO, in close coordination with the Provincial Social Welfare and Development Office (PSWDO), recorded 1,932 families composed of 6,975 individuals from 11 municipalities in Antique affected by the landslide and flashflood.
Of the affected families, 1,080 families composed of 3,809 individuals are inside 87 evacuation centers, while 852 families consisting of 3,166 individuals are outside evacuation centers.
The PSWDO has repacked 500 family food packs distributed to the affected families.
The Department of Social Welfare and Development Office is also preparing food packs upon the request of local government units.
Meanwhile, Train said that the road from Tobias Fornier to Anini-y, serving as an alternative road to Iloilo province, is already open to commuters after the landslide area was cleared around 10 a.m. Tuesday.
The Hamtic to Tiolas, San Joaquin road is still impassable as of posting time.
Train also said the suspension of sea trips from Libertad to Caluya island is still in effect due to big waves. (PNA)