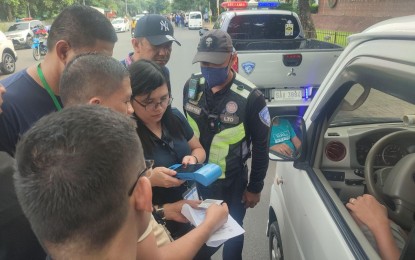 CEBU CITY – To intensify the enforcement of traffic rules and regulations, the Land Transportation Office (LTO) has deputized 60 more agents who will be tasked to conduct roadside inspections of vehicles.
Glen Galario, LTO-Central Visayas regional director, said on Tuesday the tapping of more deputized agents to implement traffic laws is part of the objective of the Department of Transportation (DOTr) to ensure road safety for motorists and the commuters.
These new deputized agents will issue electronic temporary operator's permits (e-TOP) to the violators as the traffic agency has fully implemented it since January this year.
Galario said the new agents will complement the 81 existing personnel who have been on the roster of traffic officers in the region tasked to implement Republic Act 4136 or the Land Transportation and Traffic Code.
"These are existing personnel of LTO-7 from our district and extension offices in the region trained for the deputization and are now able to utilize our electronic Temporary Operator's Permit handheld mobile devices," Galario said in a statement.
The new agents underwent a training in Cebu on Aug. 25 and 26 where they were also given the chance to do immersion before they can fully operate in their respective area of responsibility.
"We have been strictly implementing our traffic laws with our roadside inspections and I know we can do more with these new deputized agents," Galario said, noting that roadside inspections mean that the LTO agents could flag down vehicles to implement traffic laws.
According to the LTO-7 record, the region has now a total of 141 deputized personnel, 64 are from the Philippines National Police and the Land Transportation Franchising and Regulatory Board while the rest are from the agency itself.
In May 2023, the DOTr and the World Health Organization, together with road safety partners, launched the Philippine Road Safety Action Plan 2023-2028 which seeks to reduce the number of road traffic deaths in the country by 35 percent in 2028.
The five pillars of the action plan are road safety management, safer roads, safer vehicles, safer road users, and post-crash response.
Based on the 10-year data of the Philippine Statistics Authority (PSA) from 2011 to 2021, road traffic injuries are the leading cause of death among Filipinos 15-29 years old and are said to be a major cause of death among children. (PNA)