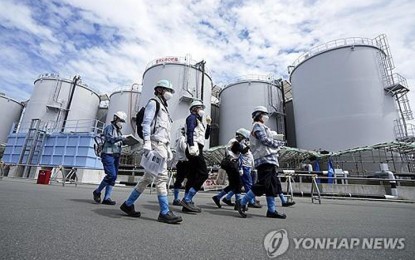 SEOUL – The radiation levels in seawater near South Korea were found to have been within the safe range despite Japan's release of contaminated water from its crippled Fukushima nuclear power plant, Seoul's oceans ministry said Tuesday.
The ministry's emergency tests on four locations in its territorial waters and high seas showed that the concentration levels of cesium and tritium stood well below the standard set by the World Health Organization for drinking water, Vice Oceans Minister Park Sung-hoon said during a regular briefing on the Fukushima issue.
The South Korean government has carried out emergency radiation tests on about 30 spots in the waters since Thursday when Japan began discharging radioactive water from the power plant into the ocean, and all the samples have met the safety standards.
No radiation has been detected in domestic seafood or imported marine products so far, Park added.
The government expanded the number of testing points from the previous 92 spots to 200 amid public concerns about the potential impact of the controversial release, and vowed to further raise its number to a total of 243 points next year. (Yonhap)