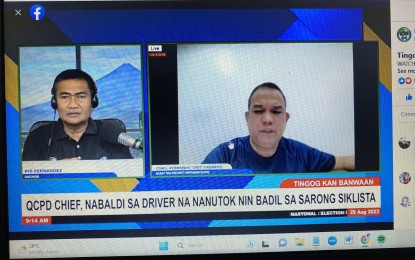 LEGAZPI CITY – Albay 3rd District Rep. Fernando Cabredo has appealed to President Ferdinand R. Marcos Jr. for an urgent investigation into the series of killings of barangay officials in Libon town of the province.
In a radio interview on Tuesday, Cabredo said it is their last resort to seek President Marcos's help, recognizing his authority to bring an end to the violence.
"This is very urgent. Last Saturday, I visited the wake of Barangay Nogpo Councilor Reliosa Mata and her husband, and now I'm shocked again after knowing that on Monday, another barangay official was killed after filing his certificate of candidacy (COC), San Jose Barangay Captain Alex Repato," Cabredo said.
He said the killing continued despite efforts to prevent such crimes.
"Gulpi na tabi ang nag buhis ng buhay dyan (Many lives have been sacrificed there (Libon). To end this, I directed my call to President Marcos as the protector of every Filipino. I'm asking for his help. Please help the people of Libon, the socioeconomic life of individuals is affected already," he said.
Cabredo said the incidents in Libon towns must now become a national issue.
"We urge your (President Marcos) prompt action to ensure the safety and security of the people in Libon. I am asking deeper investigation, into what is happening in that town," he said.
"We don't know if this is done by a group, politically motivated, or extra-judicial killing. No more mercy since even woman is being killed," he said.
Cabredo said people are now afraid to go outside at night and some want to leave the town.
"We are promoting tourism in Libon but who will come and visit if the town is noted with killings and mostly unresolved," he added.
Cabredo said he didn't want to give suggestions or recommendations on how to put an end to the killings since he believed in the wisdom of President Marcos.
"I believed that with my appeal to the President, the hope and dream of the people of Libon will be given a solution," he said.
Aside from the two barangay officials, Cabredo also noted that San Pascual Barangay Captain Oscar Maronilla and Bariw Barangay Councilor Salvador Olivares were also recently killed. (PNA)