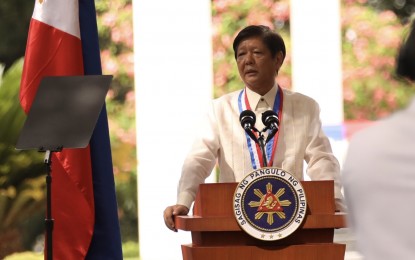 MANILA – President Ferdinand R. Marcos Jr. has given his nod to the Department of Trade and Industry's (DTI) proposed three-year food logistics action agenda aimed at ensuring food availability, accessibility and affordability, Malacañang announced Wednesday.
Marcos approved the action plan during a sectoral meeting at Malacañan Palace in Manila on Tuesday, which was attended by select government officials, among them DTI Secretary Alfredo Pascual, Communication Secretary Cheloy Garafil said in a statement.
Garafil said the food logistics action agenda contains six key strategies to address food logistics challenges, including smuggling and hoarding.
"It is committed to a whole-of-government approach where key agencies involved shall be required to prioritize, focus and allocate funding on specific initiatives," she said.
Garafil said the strategies include revolutionizing the country's food distribution system, reducing transport and logistics costs, increasing investments in logistics infrastructure on transportation and storage and addressing other supply chain gaps.
She noted that the action plan also seeks to heighten enforcement measures against hoarding, smuggling, overstaying food imports and monitoring of warehouses or cold storage facilities.
She added that the food logistics action agenda intends to use information and communications technology to improve logistics performance.
"The DTI has outlined efforts to integrate food terminals into the logistics framework through upgrading of existing food terminals and building additional food hubs in Metro Manila and other areas in the country," Garafil said.
"By integrating food terminals, the supply chain from producers to consumers could be shortened, with standardized logistical processes and transportation system directed towards specific destinations."
She said the food hubs would operate as central command centers to balance demand and supply with the resulting synergy within the food terminals.
Citing Pascual's report, Garafil said the DTI has a pilot project with the Nueva Vizcaya Agricultural Terminal (NVAT) and the United States Agency for International Development - Strengthening Private Enterprises for the Digital Economy to help small and medium enterprises transition to mature e-commerce businesses.
The project aims to help pivot NVAT from offline to online transactions to maximize the potential of e-commerce and increase market access for farmers' produce.
"The trade department is also endorsing logistics-related measures for inclusion in the priority legislative agenda, such as the International Maritime Competitiveness Act, which aims to empower the Maritime Industry Authority to regulate shipping lines and guard against excessive shipping charges," Garafil said.
The creation of the three-year food logistics agenda was one of Marcos' directives during the 8th Cabinet meeting in September 2022 to realize his vision to make the Philippines a logistics hub in Asia.
The food logistics action agenda has been developed by the DTI, in collaboration with the Department of Agriculture (DA), the Department of Transportation (DOTr), the Department of Public Works and Highways, the Department of the Interior and Local Government (DILG), the Department of Information and Communications Technology (DICT) and other development partners.
The sectoral meeting held Tuesday was also attended by Secretaries Benjamin Abalos Jr. (DILG) and Ivan John Uy (DICT); Presidential Adviser on Investment and Economic Affairs Frederick Go; DA Senior Undersecretary Domingo Panganiban; Undersecretaries Zeno Ronald Abenoja (Department of Finance), Elmer Sarmiento (DOTr) and Rosemarie Edillon (National Economic and Development Authority); and Anti-Red Tape Authority Director General Ernesto Perez. (PNA)