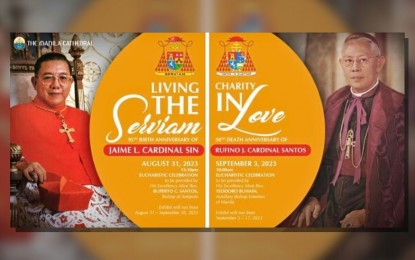 MANILA – The Manila Cathedral is paying tribute to two former cardinals and heads of the Archdiocese of Manila by showcasing their photos and memorabilia.
In a social media post Wednesday, the Minor Basilica of the Immaculate Conception in Intramuros, Manila said a Mass will be celebrated on Thursday to commemorate the 95th birth anniversary of Jaime Cardinal Sin.
"To honor his memories of Serviam (I will Serve), in partnership with the Serviam Foundation and the Archdiocesan Archives of Manila, the Manila Cathedral will be holding an exhibit of photos and memorabilia of the good cardinal," it said.
Antipolo Bishop Ruperto Santos would celebrate the Mass for Sin at 12:10 p.m.
"After the Mass, the blessing of the tomb of Cardinal Sin will follow," it added.
It noted that the blessing and opening of the exhibit at the Blessed Souls Chapel will be held after the blessing of the tomb.
Meanwhile, the Cathedral will also open an exhibit in commemoration of the 50th death anniversary of Rufino Cardinal Santos.
The exhibit would feature some of his personal belongings, liturgical and extra liturgical paraphernalia turned-over by the Santos family to the Manila Cathedral.
"Bishop Teodoro Buhain, Auxiliary Bishop Emeritus of Manila will be presiding the 10 a.m. Mass," it said.
"The blessing of the tomb of Cardinal Santos will follow. After the blessing, we shall witness the Opening and Blessing of the Exhibit located at the Nuestra Senora Del Pilar Chapel," the minor basilica added.
Sin served the Manila archdiocese from March 19, 1974 until Sept. 15, 2003. He was among the key figures in the peaceful EDSA People Power Revolution in 1986.
He succeeded Santos to the post, who served the archdiocese from Feb. 10, 1953 until Sept. 3, 1973.
Santos was the first Filipino prelate elevated to the rank of cardinal. (PNA)