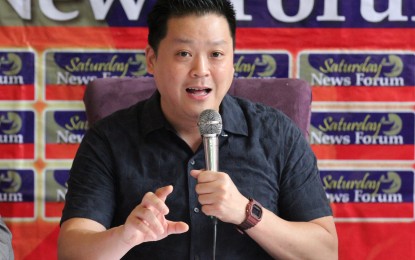 MANILA – Department of Social Welfare and Development (DSWD) Secretary Rex Gatchalian on Wednesday said they are taking proactive steps to ensure that children who have initially enrolled will not drop out from school.
As classes in all public schools opened on Tuesday, he said the DSWD remains right on track in keeping its primary objective of sending children to school through its Pantawid Pamilyang Pilipino Program (4Ps).
Gatchalian recognized the persistent challenge of declining enrolment and cases of school drop-out.
For school year 2022-2023, the 4Ps National Project Management Office (NPMO) monitored more than 7.1 million children-beneficiaries under its educational component, from which, 3.2 million enrolled in elementary; 2.8 million enrolled in high school; and 1.04 million in senior high school.
"This means that over 7.1 million children went to school last year and finished a grade level leading to one step higher in the education ladder," DSWD Assistant Secretary for Strategic Communications Romel Lopez said.
Gatchalian earlier directed the 4Ps NPMO headed by Director Gemma Gabuya to expedite the generation of data for the current year to establish how many 4Ps children are now enrolled.
"We may be able to release the number of children being monitored under the education component for the current year by September since classes have just opened. We are confident that this is not far from the figure last year," Lopez, also the concurrent DSWD spokesperson, pointed out.
The 4Ps NPMO has developed the Manual on Sustaining the Interest of Children and Youth in School which is being used as reference during the conduct of Family Development Sessions (FDS).
The FDS is the venue for 4Ps household grantees and parents to enhance and acquire new skills and knowledge in performing to their parental roles and responsibilities, particularly on education and psychosocial needs of children; health and nutrition; promotion of positive family values; and strengthening marital relationships.
Attending the FDS is one of the conditionalities of the Program.
Lopez said the FDS manual discusses the underlying factors contributing to school dropout among children and youth, adding that this initiative motivates and empowers the youth to actively engage in advocating for the return of their peers to the educational fold.
Another initiative by the 4Ps NPMO is the Strengthening Youth Leaders Intervention sessions which play a pivotal role in fostering the youth's leadership skills, allowing them to become active partners in program implementation and be a beacon of inspiration for their peers facing challenges.
"The 4Ps program provides extensive case management for households with children who are not attending school," Lopez said.
The 4Ps is a flagship program of the national government on poverty reduction and social development. It provides cash grants to extremely poor households to improve their health, nutrition and education of children aged 0-18.
The program invests in human capital to break the intergenerational cycle of poverty among poor households.
Under the 4Ps, beneficiaries with grade school children receive PHP300 per month; high school children with PHP500 a month; and those in senior high school receive a monthly stipend of PHP700.
On top of the monthly allowances for children going to school, 4Ps also provides a PHP500 monthly assistance to the beneficiaries for the medical and health needs of the children.
As of June 30, 2023, the program covers a total of 3,893,958 active household beneficiaries across 41,676 barangays nationwide. (PNA)