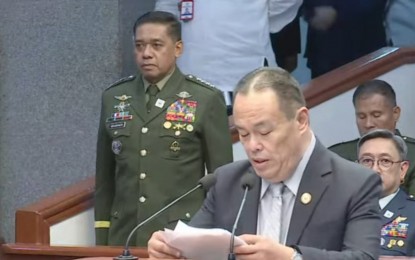 MANILA – The Commission on Appointments (CA) on Wednesday confirmed the ad interim appointments of Armed Forces of the Philippines (AFP) Chief-of-Staff, Gen. Romeo Brawner Jr., and 29 other AFP officers.
This was after Rep. Jurdin Romualdo, who chairs the CA Committee on National Defense, attested to the plenary that the military officers are fit and qualified to be promoted to their ranks, particularly citing Brawner's background.
"It is my honor and privilege to recommend the confirmation of the ad interim appointment of Romeo S. Brawner Jr. to the rank of General. Gen. Brawner is a proud descendant of a long line of military men and is committed to continuing a legacy of service and sacrifice of his ancestors," Romualdo said.
"He is a strong and decisive leader known for his professionalism, dedication, and commitment to the defense of the Philippines."
During the CA panel's deliberation, Brawner shared his vision for the AFP to be more modernized and backed up by a fully trained and developed Reserve Force.
"Our soldiers are well-trained, especially in modern weaponry and that we are modern in terms of doctrines, training and weapons. But more importantly, kelangan po natin ng developed na (we need a developed) Reserve Force," he said citing Ukrainians who have been showing the world their patriotism and willingness to defend their nation.
"Gusto po natin dito na magkaroon rin po tayo ng awareness na ang ating (We want here to also have the awareness that our) citizens should be ready for any eventual threat."
Brawner was appointed by President Ferdinand R. Marcos Jr. as AFP Chief-of-Staff on July 21 after serving as the 65th Commanding General of the Philippine Army from Dec. 10, 2021 to July 21, 2023.
A proud member of the Philippine Military Academy "Makatao" Class of 1989, Brawner graduated salutatorian in his class and also got the highest levels of excellence in his military schooling. (PNA)