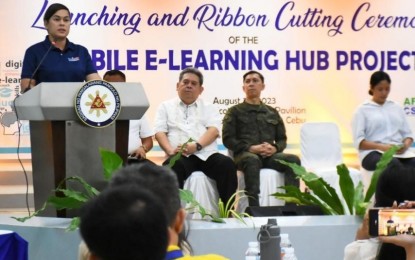 CEBU CITY – The Visayas Command has partnered with the Department of Education (DepEd) in rolling out a mobile E-Learning Hub project that will serve learners in far-flung areas where internet and computer access is a challenge, a ranking Army official said Wednesday.
Vice President and DepEd Secretary Sara Duterte attended Tuesday the launching and ribbon-cutting of the mobile learning facility at the Ecotech Center Pavilion in Sudlon, Lahug here.
Lt. Gen. Benedict Arevalo, Viscom commander, expressed his thanks to Duterte and the department she represents for trusting them in rolling out the project, along with the Department of Information and Communications Technology (DICT) in the region.
He said the project will be deployed in areas where the military is conducting its Community Support Program (CSP), an intensified community engagement aimed at eradicating insurgency down the barangay level.
The mobile e-learning hub is a modified trailer truck with a 20-foot container van.
Inside the van are 20 laptop computers and printers, tables, chairs and shelves, with a Smart TV and internet connection.
The hub has its generator set to ensure that it can operate in areas with electrical power issues.
"The mobile E-Learning Hub is a welcomed addition to our CSP efforts, as the CSP is not solely to ensure the safety and security of the people, but also on ensuring their well-being," Arevalo said in a statement.
He thanked Duterte, saying that her presence inspired and motivated the soldiers to do more for peace and development in the Visayas.
"Hopefully, this project will not be the last. This is the first and we hope that there will be more of this project in the future," he said. (PNA)