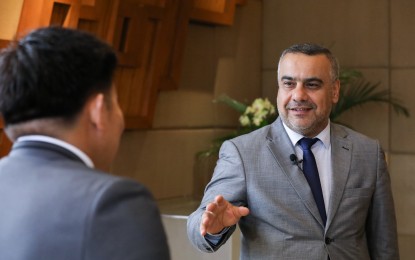 MANILA – Iraq is looking to partner with the Philippines to enhance its nursing curriculum, hailing the country as one of the world's leading producers of nurses.
"We know that the Philippines is one of the top-ranked countries in the quality of nurses, therefore we asked if we can train our faculty members from Iraqi universities for training and to observe here in the Philippines," said Osama Esmaiel Al-Mushhadany, president of Ninevah University and representative of the Iraq Ministry of Higher Education and Scientific Research.
Al-Mushhadany said Iraq is hoping to "expose" these educators to the nursing curriculum that Philippine higher education institutions (HEIs) use.
On the sidelines of the 8th Iraq-Philippines Joint Committee Meeting (JCM) on Wednesday, the Iraqi delegation presented a draft memorandum of understanding (MOU) to the Philippine side to fast-track bilateral cooperation on higher education.
Once approved and signed, Al-Mushhadany said the MOU would allow the two governments to facilitate the crafting of separate agreements between Iraqi and Philippine HEIs on ways to increase academic exchanges.
The proposed MOU also includes the sending of top-marked Iraqi students to study nursing in the country.
"The Filipino nurses are very advanced and the Philippines is one of the top countries in nursing, therefore (we) want to have this experience, (see) how (the country) reached this," Al-Mushhadany said.
"This could be done by doing cooperation and sending our faculties to observe how they (Philippine HEIs) teach their students. How do they reach this level and standard," he added.
This is the first JCM in ten years since the last was held in 2013.
On top of education, Iraq and the Philippines also sought to increase engagements in trade and investment, tourism, labor, health, information and technology and combatting terrorism, among others.
On Thursday, the 19-member delegation is expected to visit the Department of Labor and Employment and the Department of Health to explore ways to strengthen cooperation.
The 8th JCM is co-led by Foreign Affairs Assistant Secretary Mardomel Celo Melicor and Iraq's Deputy Minister of Health Khamees Hussein Ali and will end on Thursday. (PNA)