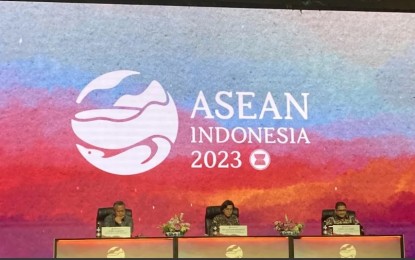 MANILA – President Ferdinand R. Marcos Jr. will be making a big push for the issuance of a joint statement of the Association of Southeast Asian Nations (ASEAN) on China's recent actions in the South China Sea (SCS) and release of its 2023 standard map, an official of the Department of Foreign Affairs (DFA) said Thursday.
Marcos is slated to participate in the 43rd ASEAN Summit and Related Summits in Jakarta, Indonesia from Sept. 5 to 7, DFA Assistant Secretary for ASEAN Affairs Daniel Espiritu said in a Palace briefing.
"The Philippines is definitely pushing for a statement in that regard. But of course, I cannot give you yet the final text of that because it's still being negotiated," Espiritu said.
Espiritu said he could not speculate about the possible statement the 10-member regional bloc might issue with regard to China's actions.
Pressed further if ASEAN might condemn China's provocative acts, Espiritu said, "Well, saying something in that regard. Not exactly the word condemnation."
"'Yung language, pinaguusapan pa. So, I cannot predict at this point kung ano ang magiging outcome. Magbabago iyan many times, depending on compromise and usapan doon (The language is still being discussed. So, I cannot predict at this point what the outcome will be. That will change many times, depending on compromise and discussion there)," he added.
Rules-based international order
During the 43rd ASEAN Summit and Related Summits, Marcos is expected to attend 13 leaders' engagements, 12 of which are summit sessions with other leaders, Espiritu said.
Espiritu said Marcos would continue to push for adherence to rules-based international order to settle disputes, including the overlapping claims in the SCS.
"The President will continue to promote a rules-based international order, including the 1982 UNCLOS (United Nations Convention on the Law of the Sea), especially in the South China Sea," he said. "The Philippines will continue to uphold and exercise freedom of navigation and overflight with the South China Sea, in accordance with international law."
The UNCLOS, adopted in 1982, lays down a comprehensive legal framework governing all activities and uses of the world's seas and oceans. It also establishes general obligations for safeguarding the marine environment and protecting freedom of scientific research on the high seas.
The Philippines, China and several other littoral states are locked in a territorial dispute over the resource-rich SCS where Beijing claims around 80 percent of the strategic waters.
The Philippines on July 12, 2016 won its petition filed before the Hague-based Permanent Court of Arbitration (PCA) after the arbitral tribunal invalidated Beijing's claim of supposed historic rights over almost the entire SCS.
China, however, has repeatedly ignored the PCA ruling.
Upholding national interest
Marcos, Espiritu said, would also uphold the Philippines' interest during his participation in ASEAN summits.
"He will highlight our advocacies in strengthening food and energy security, harnessing the potential of the digital and creative industries and MSMEs (micro, small and medium enterprises), and addressing the impacts of climate change, among others," Espiritu said.
Espiritu said Marcos would also emphasize the Philippines' efforts to protect migrant workers in crisis situations, as well as to combat trafficking in persons, especially with the abuse of technology.
Regional, international issues
Espiritu noted that ASEAN leaders are also expected to discuss regional and international issues that have an impact on the regional bloc.
He said the situation in Myanmar, conflict in Ukraine, and geopolitical rivalries in the Indo-Pacific region are among the issues that are expected to be discussed.
"To date, over 90 outcome documents are being targeted to be issued, adopted or noted during the summits," Espiritu said, noting that key outcome documents would include ASEAN Leaders' Declaration on Food Security and Nutrition in Response to Crisis, as well as ASEAN Leaders' Statement on the Development of Digital Economy Framework Agreement.
Bilateral meetings
Espiritu said Marcos would also hold bilateral meetings on the sidelines of the ASEAN Summit and Related Summits.
He said Marcos is expected to meet with Cambodian Prime Minister Hun Manet, South Korean President Yoon Suk Yeol, Timor Leste Prime Minister Xanana Gusmão, and Vietnam Prime Minister Pham Minh Chinh.
Bilateral meetings with other world leaders are still being finalized, Espiritu said.
Official delegation
Espiritu said Marcos will be joined by several Cabinet officials and business leaders.
He said the secretaries who will be joining Marcos were Enrique Manalo (Foreign Affairs), Rex Gatchalian (Social Welfare), and Alfredo Pascual (Trade).
"It's up to the President kung sino pa ang idadagdag niya (who will he pick [to join the official Philippine delegation). There'll be more, definitely," Espiritu said.
Espiritu said there will also be an official Philippine business delegation since there will be a meeting with the ASEAN Business Advisory Council and potential foreign investors. (PNA)