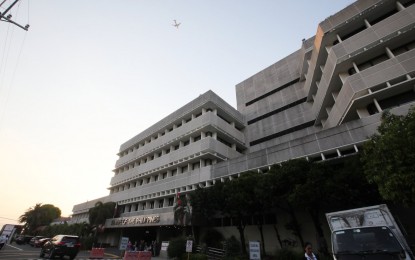 MANILA – Senators, who raised some issues about the new travel guidelines implemented by the Department of Justice (DOJ) and the Inter-Agency Council Against Trafficking (IACAT), Thursday thanked DOJ Secretary Jesus Crispin Remulla for its suspension.
In a statement, Senate Majority Leader Joel Villanueva thanked the IACAT, citing the move as "a testament that the government listens."
"We look forward to a dialogue with Department of Justice Secretary Jesus Crispin Remulla and the IACAT council to resolve the issues and find better solutions to combat human trafficking. Our position remains," Villanueva said.
"The government should not put the burden on our kababayans but instead strengthen their programs against trafficking," he added.
Villanueva introduced on Wednesday a resolution to the Senate plenary calling the revised IACAT travel guidelines "unreasonable and misplaced as a solution to prevent human trafficking."
Senator Grace Poe, who suggested earlier to temporarily suspend and review the revised travel guidelines, also welcomed the move.
"It averted what could have been a chaotic situation at our airports with the possible flight misses and boarding delays due to the cumbersome requirements," Poe said.
"We are one in our goal to give ease and security to legitimate travelers while making it hard for wrongdoers to victimize the public," she said.
Apart from Villanueva's resolution, the Senate approved an unnumbered resolution which allows the Senate President to file a petition before the Supreme Court (SC) a temporary restraining order (TRO) against the new travel guidelines.
In a press briefing, Senate President Juan Miguel Zubiri said they are allowed to file a TRO to the SC on the grounds that the new guidelines are unconstitutional.
Zubiri also welcomed the move made by the DOJ and the IACAT.
"Natutuwa rin po ako sa bilis ng naging aksyon ni Secretary Remulla sa hiling po ng ating mga senador (I am glad with the swift action of Secretary Remulla to the call of our senators)," Zubiri said.
"Maybe we can have a further discussion on this on the succeeding hearings to come, particularly on the issue on the travel guidelines," he added.
Zubiri said senators are interested to know how the IACAT came up with the revised travel guidelines, which would require all Filipinos traveling abroad be subjected to immigration inspection and will be expected to produce travel documents such as a valid passport, boarding pass, visa, and confirmed return or roundtrip ticket.
Travelers will also be asked by Immigration officers about their reason for travel and request further supporting documents to find out if the traveler is a potential victim of human trafficking. (PNA)