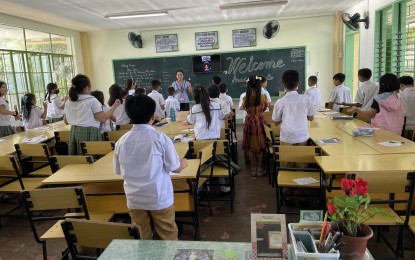 ILOILO CITY – Classes resumed in 66 public schools in Iloilo City, although several classrooms in seven schools still serve as evacuation centers on Thursday.
"Classes utilized classrooms that were not affected," said Iloilo City Schools Division Superintendent Ma. Luz de los Reyes in an interview.
She said they consider Aug. 31 their first day of school since the inclement weather hampered the opening on Aug. 29, even if schools were ready to accept learners.
Teachers and school heads returned to school on Aug. 30 to conduct cleanup activities since some schools were affected by the flooding.
Around 72,000 learners are enrolled from kindergarten to senior high school based on their quick count on their information system, although the figure was lower than the previous school year.
"We are still short by around 15,000 to overshoot the previous data," de los Reyes said.
She attributed the low number to the continuing encoding of enrollees and to the undecided parents on whether or not to enroll their children.
Still being used as evacuation centers are the 14 classrooms at the Tiu Cho Teg-Ana Ros Foundation Integrated Farm School, an undetermined number at the Judith Lazarraga Tiongco Memorial School, five at the Severo Abeto Elementary School, four in Sto. Domingo Elementary School, three at the Balantang Elementary School, five at the E. Yusay Memorial School, and seven at the Arevalo Elementary School.
De los Reyes said classes remained unhampered even with the utilization of some classrooms because school principals were ready with their contingency plans.
Representatives from the central office of the Department of Education (DepEd) and the Department of Health (DOH) visited the Iloilo City Schools Division on Thursday to assess the implementation of the Oplan Kalusugan sa DepEd (OK sa DepEd).
The Oplan Kalusugan covers all health and nutrition concerns of schools under the Deped, including adolescent reproductive health; mental health; feeding program; water, sanitation, and hygiene or WASH; and medical and dental services, she said. (PNA)