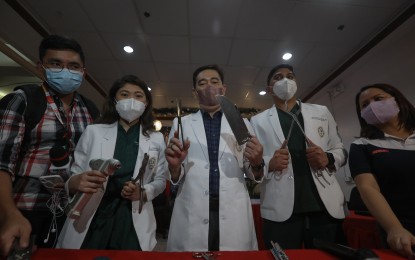 MANILA – Sen. Francis Escudero on Thursday said the country needs doctors to meet the health needs of Filipinos, as he also urged his colleagues to pass bills that will create more public medical schools in the country.
"If there is one painful lesson that the pandemic has taught us, it is the fact that even if we produce them on an industrial scale, we cannot have enough doctors. Because even before Covid-19 struck the Secretary of Health said we were already 114,000 short of doctors, in what could be described as our society's pre-existing comorbidity," he said in a statement.
Escudero has recommended the establishment of public medical schools in Benguet State University in the Cordilleras, Southern Luzon State University in Quezon Province, University of Eastern Philippines in Northern Samar, Don Mariano Marcos Memorial State University in La Union, and Visayas State University in Southern Leyte.
These schools, he said, are centers of excellence, consistently turn in excellent board examinations scores, and are research and innovation hubs.
He said these education institutions are academically prepared and will soon be facility-ready, noting also the availability of public and private hospitals around its vicinities that could provide training to students and faculty members.
He said the additional medical schools will boost Republic Act 11509 or the "Doktor Para Sa Bayan Act," which was passed in December 2020.
The law aims to establish medical scholarship and return service program for deserving students who want to pursue a degree in Doctor of Medicine in state universities and colleges.
"At present, the program is offered in 16 private schools and 16 state universities with funded slots for 3,600 scholars this year. The five bills I am introducing through this omnibus sponsorship speech will bring it to 21," the senator said.
Relatively, Escudero also filed measures that aim to create veterinary schools at the Bicol University in Ligao, Albay and in the Southern Luzon State University- Catanauan Campus in Quezon province.
"There is a national shortage of veterinary doctors today. This can be addressed by establishing more colleges of veterinary medicines, especially in the countryside where large animal health care remains an underserved need of the farmers who feed us," he added.
Unfilled teaching positions
Similarly, Sen. Sherwin Gatchalian on Thursday said the Department of Education's (DepEd) failure to hire more qualified teachers will negatively impact the learning capability of students.
Data from the Department of Budget and Management (DBM) show that as of Feb. 17, 2023, there are 24,254 unfilled teaching positions at the DepEd.
This is equivalent to almost 3 percent of DepEd's 879,789 teaching positions.
Bulk of the unfilled positions is for Teacher I, Special Science Teacher I, Special Education Teacher I, and Master Teacher I.
DepEd previously said the hiring process, which also involves the Civil Service Commission (CSC) and the DBM, usually takes six months.
"Out of 39,186 total schools for Kindergarten to Grade 6, 9 percent (3,505) have insufficient teachers. (Also) Twenty-four percent (2,412) of 10,188 junior high schools, and 34 percent (2,522) of 7,520 senior high schools do not have enough teachers." Gatchalian said in a statement.
The Commission on Audit (COA) also took note that while DepEd was able to obligate 95 percent of its total adjustment allotments of PHP658.5 billion in its 2022 budget, the unutilized balance of PHP32.6 billion can be attributed to unfilled teaching positions, as well as the delayed, partial, and non-implementation of various programs, activities, and projects.
Gatchalian also noted the number of schools that do not have enough teachers for school year 2022-2023 based on DepEd data and the Philippine Development Plan (PDP) 2023-2028.
"It's really unjustifiable that our classrooms are not staffed with teachers when there are available positions and funding for those teachers. We really need to improve the process and during the budget hearing, I plan to raise what reforms they have undertaken," Gatchalian, chairperson of the Senate Committee on Basic Education, said. (PNA)