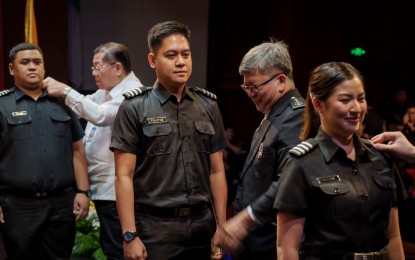 MANILA – The Bureau of Immigration (BI) on Thursday expressed confidence in its new immigration officers, particularly in terms of safeguarding the country's borders.
This came following the graduation of new officers from the Philippine Immigration Academy on Wednesday.
In a statement, BI Commissioner Norman Tansingco said the new batch of officers will help boost the efficiency of operations across all its offices.
"These graduates have exhibited commitment throughout their training, and we are confident in their abilities to serve our nation and protect our borders with unwavering dedication," he said.
The 108 newly graduated officers were trained in "immigration law, border security measures, and passenger processing procedures."
"These officers will play a crucial role in upholding our immigration laws, ensuring the smooth flow of legitimate travelers, and safeguarding the integrity of our nation's immigration system," Tansingco said.
All graduate officers are expected to be additional manpower in various immigration divisions, including the Ninoy Aquino International Airport (NAIA).
Chinese language training
The BI earlier partnered with the Chiang Kai Shek College (CKSC) and the Confucius Institute at the University of the Philippines Diliman (CI-UPD) to train some of its personnel in Chinese language.
Tansingco said the program aims to improve the quality of service and communication to Chinese nationals considering they accounted for the second highest number of foreign arrivals before the pandemic started.
"Proper communication is not just essential for effective service but also for building trust with the public. This training equips our personnel with valuable language skills to ensure accurate and efficient interactions with Chinese-speaking individuals," he said.
Around 25 personnel from the BI central office and 25 immigration officers from other airports are currently under the training program.
The training consists of a 50-hour curriculum of the basic Mandarin language program level 1.
"Two training schedules are set: one at Ninoy Aquino International Airport (NAIA) from July 11 to October 3, and another at the BI main office from July 10 to October 9," the BI statement read.
The CI-UPD also launched its 36-hour online program last Aug. 29 until Nov. 16. (PNA)