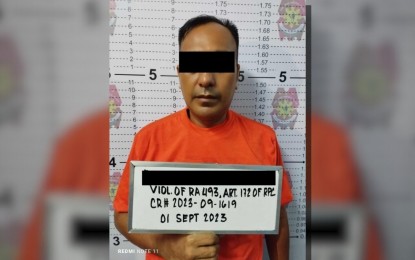 MANILA – The Southern Police District (SPD) on Friday said the motorcycle rider who figured in a traffic altercation with a police officer has surrendered to authorities.
SPD director Brig. Gen. Roderick Mariano, in a statement, said the rider, identified as Angelito Rencio, surrendered to the Makati City Police Station at around 7:45 p.m. Thursday.
Rencio was one of the two men involved in the Aug. 25 incident which occurred along Osmeña Highway in Barangay Pio Del Pilar, Makati City, that went viral on social media.
"In response to the viral video, a thorough investigation was conducted by SPD and Makati City Police to ascertain the events leading to the altercation. Following the investigation, a complaint was filed against Angelito Rencio on August 30, 2023, by the Makati City Police Station for violation of RA 10591 (Comprehensive Firearms and Ammunition Regulation Act), Art. 177 (Usurpation of Authority), and Art. 151 (Resistance and Disobedience to a Person in Authority) of the Revised Penal Code. The complaint was docketed under IS No. XV-05-INV-23H-2595 at the Makati City Prosecutor's Office," Mariano said.
He added that Rencio voluntarily surrendered upon learning of the complaints filed against him.
"He sought to shed light on the complaint filed against him and to ensure his safety. Rencio is currently under the custody of the Makati City Police Station," Mariano said.
Rencio was involved in a fracas with Staff Sgt. Marsan Dolipas.
Rencio reportedly told Makati police investigators that he was a retired intelligence operative for the Armed Forces of the Philippines.
Authorities have yet to ascertain if Rencio is indeed a former member of the AFP despite an earlier statement from the Philippine Army disowning him as their member.
Both were caught in a traffic altercation after the latter's motorcycle sideswiped the former's vehicle.
Instead of asking for an apology, Rencio even gave Dolipas a dirty finger and uttered foul words. Dolipas alighted from his vehicle and confronted Rencio.
Upon seeing a gun tucked on Rencio's waist, Dolipas identified himself as a police officer, took the gun and subdued Rencio as a precautionary measure. (PNA)