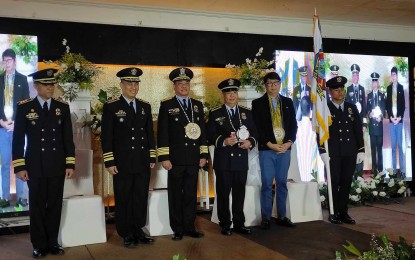 SAN JOSE DE BUENAVISTA, Antique – The San Jose de Buenavista Fire Station of the Bureau of Fire Protection (BFP) is the Best Municipal Fire Station in Western Visayas, particularly for its effort to organize Community Fire Auxiliary Group (CFAG) in barangays as first responders.
In an interview on Friday, Acting Municipal Fire Marshal Chief Inspector Vic Matta, who received the award during the 32nd BFP Anniversary in Iloilo City on Aug. 29, said the CFAG is part of the BFP's Oplan Ligtas Pamayanan.
The CFAG in barangays acts as first responders, where the barangay captain serves the fire chief and the councilors take charge as assistant fire chief, evacuation, communication, traffic, fire suppression, and rescue officers.
"The councilor in charge of the traffic implemented traffic management so that the BFP fire truck could immediately penetrate the barangay," Matta said.
The barangay councilor in charge of fire suppression and community volunteers trained on bucket relay, so while waiting for the BFP fire truck, they could do something to prevent the spread of the flames.
The CFAG is now in five pioneer barangays, and the training continues to activate them in the 28 barangays of the town.
"We were able to organize five CFAG in the heavily congested areas in barangays Maybato South, Maybato North, San Angel, Malaiba, and Barangay 4," Matta said.
"This coming September when we conduct the 4th Quarter Exit Drill in the barangay these pioneer CFAG will already be the ones to assist us," he said.
The CFAG will also take an active role as the BFP San Jose de Buenavista activates its third sub-station in Barangay San Angel. (PNA)