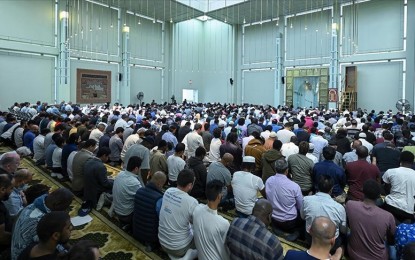 NEW YORK – In a historic first, the Islamic call to prayer, known as the adhan, resonated through the loudspeaker of one of New York's largest mosques on Friday.
Many Muslims attending Friday prayers at the Islamic Cultural Center of New York (ICCNY) in Manhattan recorded the moments with their mobile phones.
On Tuesday, Mayor Eric Adams announced that New York City will permit the adhan to be broadcast at designated times every Friday and during the holy month of Ramadan.
"For too long, there has been confusion about which communities were not allowed to amplify their calls to prayer," Adams said at a news conference attended by representatives from various mosque associations and Muslim foundations.
"Today, we are cutting red tape and saying clearly that mosques and houses of worship are free to amplify their call to prayer on Fridays and during Ramadan without a permit necessary," he added.
Under the new guidance, a mosque or masjid can broadcast adhan every Friday between 12.30 p.m. and 1.30 p.m. as well as before the fast-breaking meal, of iftar, every evening during the fasting month of Ramadan.
Leaders from the Muslim community expressed gratitude to the mayor and other officials. (Anadolu)