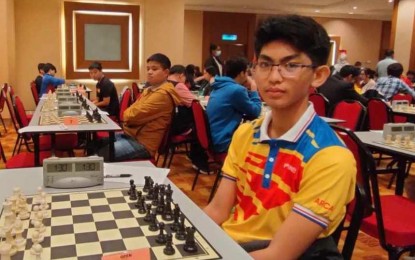 MANILA – FIDE Master Christian Gian Karlo Arca defeated Candidate Master Jun Ying Tan of Malaysia to earn his first International Master norm in the 18th IGB Dato' Arthur Tan Malaysian Open Chess Championship on Sunday.
The 14-year-old woodpusher from Cavite finished the nine-round tournament with 6.0 points (four wins, four draws and one loss) in the competition held at the Mid Valley Megamall in Kuala Lumpur from Aug. 28 to Sept. 3.
Arca's other victories were against Singaporean Kay Yan Eden Pang (ELO 1366), Indian IM Ameya Audi (2403) and Indonesian IM Gilbert Elroy Tarigan (2370). He drew with Indonesian FM Aditya Bagus Arfan (2410), Indian CM Kamotra Soham (2381), Singaporean IM Xiangyi Liu (2374) and Vietnamese CM Khuong Duy Dau (2292).
He bowed to Indian GM J. Deepan Chakkravarthy (2446) in the seventh round.
The Grade 9 student from Dasmariñas Integrated High School has gained 154.8 ELO points from the Malaysian event, to be added to his rating of 2192 as of Sept. 1, 2023.
ELO is a rating system to measure the skill level of players in games.
In the Blitz category, Arca finished third behind Singaporean IM Siddharth Jagadeesh of Singapore and Vietnamese GM Nguyen Van Huy.
"Christian was very happy to get his first IM norm in the tournament. He needs two more norms to complete his IM title, so he's really motivated," said Arman, who arrived in Manila with his son on Monday morning.
Meanwhile, Christian is scheduled to compete in the GM Rosendo Carreon Balinas Jr. Rapid Rated Open Chess on Sept. 30 at the Open Kitchen Food Hall, Rockwell Business Center in Mandaluyong City.
He will also join the World Youth Chess Championship on Nov. 12-25 in Montesilvano, Italy.
Christian is among the top players of the star-studded Dasmariñas Chess Academy of Rep. Pidi Barzaga, Mayor Jenny Austria-Barzaga and national coach FIDE Master Roel Abelgas. (PNA)