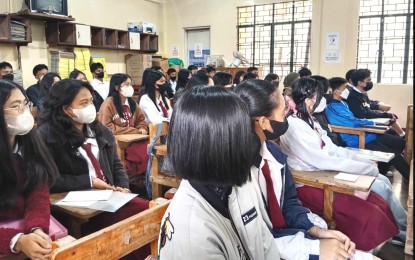 BAGUIO CITY – The Department of Education in the Cordillera Administrative Region (DepEd-CAR) on Monday said it has recorded at least 429,772 learners in public and private schools from Kindergarten to Grade 12 during the first week of classes for School Year 2023-2024.
Cyrille Gaye Miranda of the Public Affairs Unit of the DepEd-CAR said the Benguet Schools Division recorded the return to school of 102,379 learners, while the Baguio Schools Division logged 91,599 students.
In Abra, 58,724 students enrolled for the new school year, while Ifugao saw the return of 50,612 learners.
Mountain Province recorded 38,280 enrollees, Apayao had 29,823, and Kalinga received at least 58,355 learners from all levels in public and private institutions.
This school year's enrollment rate was slightly lower than last year's 437,624 students enrolled in Kindergarten to Grade 12.
For this school year, 362,162 learners came from the public primary and secondary schools, while 64,104 were from private primary and secondary schools. State Universities and Colleges, meanwhile, accepted 3,506 learners from Kindergarten to secondary level.
"We call on parents and guardians to enroll their children or ward especially if they have preferred locations of public schools. If there are so many learners and they are late, they might be referred to nearby schools considering the availability of space in the classrooms," Miranda said.
DepEd Order 3-2018 states that public schools can accommodate late enrollees provided the learner meets 80 percent of the prescribed number of school days for each school year and the quarterly requirement to pass the grade level as governed by the latest existing applicable DepEd issuances.
Siblings Cecil Tabilog and Arlene Motilla, whose children are in public elementary and high school near their residence in Irisan, Baguio City, said despite the rains during the opening day last Aug. 29, their children were excited to go back to school.
"Excited sila kasi makakapaglaro sila kasama ang mga classmate nila (They were excited to play in school with their classmates)," Tabilog said.
She said their children are always looking forward to attending school, especially after the lockdown when they had to attend classes online and accomplish modules without the luxury of running around the school grounds. (PNA)