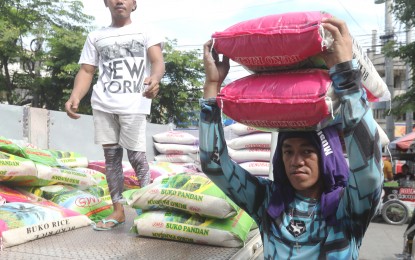 MANILA – Department of Trade and Industry (DTI) Secretary Alfredo Pascual has ordered the creation of a Special Task Force to ensure that the Executive Order (EO) No. 39, mandating price ceilings on rice, will be implemented.
In a statement Monday evening, Pascual said establishing the Special Task Force is one of the initiatives of the agency to efficiently implement the EO 39 signed by President Ferdinand R. Marcos Jr.
"To my DTI colleagues who are assigned to the rice task force, let's work together to perform our duties properly and efficiently," said Pascual, who is in Jakarta for the ASEAN meeting.
Marcos has ordered the rollout of assistance for retailers and wholesalers, including small supermarkets that will be affected by the price cap.
The DTI said the aid would be in the form of financial assistance, loan programs, logistics support
and market linkages and support.
Member agencies of the task force also agreed to conduct the profiling and validation of rice retailers who can receive assistance from the government in coordination with the Department of Agriculture, local government units, and the Local Price Coordinating Councils.
The DTI will also mobilize associations to submit the list of retailers to identify the potential beneficiaries of the assistance.
"Currently, we are working with other government agencies to facilitate the profiling and validation of retailers, which shall be the basis for the distribution of financial aid by DSWD (Department of Social Welfare and Development) as early as next week," DTI Assistant Secretary Teodoro Uvero said.
The financial aid that will be facilitated by the DSWD will cover the difference between the cost of the currency inventory of rice and the price ceiling of PHP41 and PHP45 per kilogram for regular- and well-milled rice, respectively.
The government will also give logistics support by providing transportation to deliver rice from traders to retailers to cut logistics costs.
The public sector will also assist in linking local farmers with supermarket chains and other retailers, and promote bulk buying or advance purchase of supermarkets, restaurants, hotels, resorts and other commercial establishments.
"We are also set to conduct visits in warehouses in various locations to ensure that there is enough supply and discourage hoarding. As instructed by DTI Secretary Fred Pascual, the task force will ensure that consumers are protected and retailers will receive the assistance they need as the EO takes effect," Uvero added. (PNA)