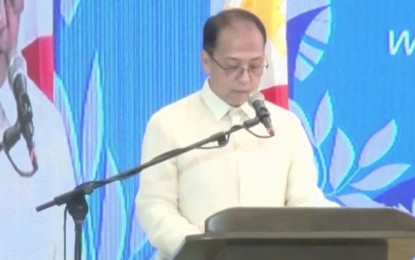 MANILA – All Filipinos have a shared responsibility to defend and protect the country's gains in peace, the country's top peace adviser said Tuesday.
"The importance of ringing the 'Peace Bell' to the Comprehensive Peace Process cannot be over emphasized. The reverberation coming from the massive bell symbolizes peace, harmony, and solidarity. More importantly, this is a clarion call for all Filipinos regardless of religion, tribe or personal belief to play a key role in peace building," Office of the Presidential Adviser for Peace, Reconciliation and Unity (OPAPRU) Secretary Carlito Galvez Jr. said during the opening of the National Peace Consciousness Month which was highlighted by the ringing of the "Peace Bell" at the Quezon Memorial Circle in Quezon City.
Galvez said the ceremony aims to remind all Filipinos "to steadfastly defend, protect, and sustain the country's peace gains".
The OPAPRU chief said the "Peace Bell' was donated by the World Peace Bell Association, a Japanese organization that promotes world peace, to the Philippines in 1984.
"Last September 1, no less than His Excellency, Ferdinand R. Marcos Jr. led the official launching of the 2023 National Peace Consciousness Month which coincided with the declaration of Palawan as insurgency-free," Galvez said.
He added this gesture highlights the resolve of the Marcos administration's commitment in bringing in peace and development all over the country.
Galvez said this can only be realized through the "concerted, inclusive and determined efforts of all our peace partners".
He noted that maintaining and securing the peace is not the task of a few chosen individuals but of everyone as highlighted by this year's National Peace Consciousness Month theme of "Kapayapaan: Responsibilidad ng Bawat Mamamayan".
"On the Comprehensive Philippine Peace Process, the Marcos Administration continues to push forward and sustain the gains due to the effective implementation of its Five-Point Peace and Reconciliation and Unity Agenda," he added.
Galvez also reiterated the Marcos administration to fulfill its commitment to implement all signed peace agreements with the Moro Islamic Liberation Front, the Moro National Liberation Front, the Rebolusyonaryong Partido Manggagawa ng Pilipinas, Revolutionary Proletarian Army-Alex Boncayao Brigade, the Tabara-Paduano Group known as Kapatiran, and the Cordillera Bodong Administration-Cordillera People's Liberation Army.
"For the communist group, this administration continues to make headway in carrying (out) our several localized peace engagements in the country," he added.
Galvez said all interventions under these peace tables will be carried out in the parallel with the complimentary programs of the OPAPRU and the Office of the Special Assistant to the President which include the "social healing and peace-building program or SHAPE, the catch-up socio-economic intervention under the "Payapa at Masaganang Pamayanan" (PAMANA) program. (PNA)