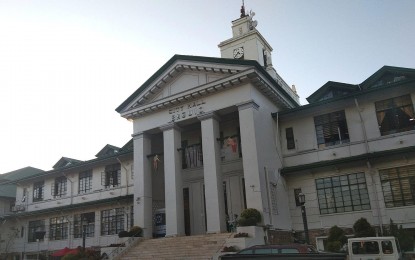 BAGUIO CITY – The city government has reminded the public that they are not allowed to bring in or use single-use plastics while inside the city hall.
Local government employees and service providers such as the City Government Employees Multi-Purpose Cooperative canteen, store concessionaires, food caterers and even office visitors are covered by the total ban on single-use plastics under Memorandum 66-2023, issued Aug. 25 and which took effect on Monday.
"The city government wants to further boost the implementation of the ordinance by using itself as a model to the public," City Information Office chief Aileen Refuerzo said in an interview on Tuesday.
The memorandum was issued to promote an environment-friendly workplace and sustainable consumption practices by reducing the volume of single-use plastic items that are dumped in landfills.
"This action aims to protect our environment and health, conserve resources, reduce plastic pollution, and set a positive example for our economy," she said, adding that refraining from using such items would also decrease greenhouse emissions associated with their production.
Refuerzo said the memorandum was a reiteration of the city ordinance passed in 2017, prohibiting business establishments from providing customers with plastic bags or polystyrene foam containers "for goods or items purchased or serve food or drink, take out or dine in, to customers in polystyrene containers or plastic bags."
The same ordinance mandates all city government schools and offices to maintain a "No Plastic Bag, No Styrofoam" policy in their office or school premises, including during government-sponsored events and functions.
Among those considered as single-use plastic items are plastic cups and bottles, disposable cutlery and plates, food containers, meal boxes, plastic straws, plastic stirrers, "Styrofoam" containers and plastic sauce containers.
In place of these, alternative and eco-friendly options such as reusable or washable bottles, plates, food containers, cups, utensils, biodegradable or compostable packing and other sustainable alternatives should be used.
Elsewhere in the city, establishments publicly display the prohibition to use plastic bags to advise customers that purchased items are placed in brown paper bags or eco-friendly bags and reusable bags brought by the clients.
At the city market, a single layer of plastic bags can be used for wet goods. Products that use plastic as a primary packaging like sugar and condiments are exempted from the ban.
Violators will be fined PHP1,000, PHP3,000 and PHP5,000, respectively, for the first to third offense and with immediate closure for establishments without a business permit.
A fine and suspension of business permit for six months on the fourth offense will be meted out.
Habitual offenders will not have their business permit renewed, which would lead to total closure. (PNA)