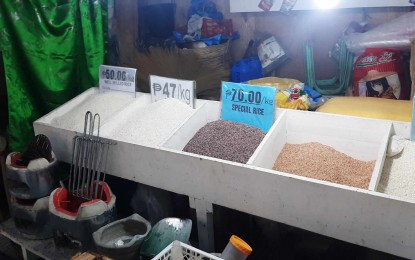 ILOILO CITY – The Department of Trade and Industry (DTI) has started the monitoring and profiling of rice retailers from big supermarkets to small stores in Western Visayas to determine those affected by the government-mandated price ceiling.
DTI-Region 6 Acting Regional Director Ermelinda Pollentes said Executive Order 39 imposing a price cap for regular and well-milled rice will initially impact retailers.
"We would like to determine how extensive are the losses, where are they getting their rice supply, and any problem with their logistics so we can probably assist them even in the purchasing later on or another government agency tasked so that will be able to help out," Pollentes said in a media conference on Tuesday afternoon.
She said they will be taking "necessary measures along the way" if there are retailers found selling rice beyond the ceiling during the monitoring.
"As much as possible, we would like to help our retailers. We don't want to create enemies, we want to help them that is why we do profiling, and I believe that they would be cooperative enough to also help out in this short-term measure that we see in the case of the region," she said, adding they would like to come up with a win-win solution for retailers and consumers.
Pollentes said the DTI and the Department of Agriculture (DA) agreed to have a common monitoring form for pricing and determining losses of retailers during a meeting Tuesday.
Representatives from the National Food Authority, the Bureau of Plant Industry and the Department of the Interior and Local Government also attended the meeting.
The profiling will be done until Sept. 8, and the generated data will be furnished to their head office for clear guidelines on measures to mitigate the effect of the price cap.
DTI Consumer Protection Division Chief Grace Benedicto said during the profiling, they will ask retailers about their purchase price and other information to help them in case they suffer losses due to the ceiling cap.
Pollentes added that the price ceiling is just temporary, especially in Western Visayas, especially now that the harvest season is coming.
She said the NFA has started its palay procurement, adding that two shipments carrying more than 5,000 metric tons of imported rice arrived in Iloilo port on Tuesday.
"Everything considered, be assured of our rice sufficiency in the near term. With the onset of the harvest season and per the assessment of the DA where there is a minimal impact on the flooding, we are assured of a stable supply of rice in Region 6," Pollentes said.
She added as of this time, they have yet to hear of any price manipulation or hoarding in the region. (PNA)