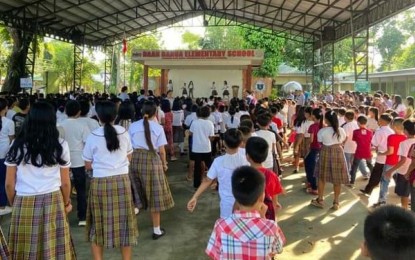 BACOLOD CITY – Basic education enrollment in public and private schools in this city and the rest of Negros Occidental decreased by 5 to 16 percent for school year 2023-2024, a comparative report of the Department of Education (DepEd) on Wednesday showed.
The data were based on the quick count as of Sept. 5 from the schools division offices (SDOs) of Negros Occidental and those of the cities of Bacolod, Bago, Cadiz, Escalante, Himamaylan, Kabankalan, La Carlota, Sagay, San Carlos, Silay, Sipalay and Victorias among learners in the elementary and secondary levels.
Ian Arnold Arnaez, spokesperson of SDO-Negros Occidental, said since enrolment is still ongoing, they expect more late enrollees to be added to the figures.
He noted though the lower enrollment in the province could mean many learners have opted to work in sugarcane plantations instead since the sugar milling season has started this month.
Figures showed that in SDO Negros Occidental, comprised of schools in the 19 municipalities and the lone city of Talisay, enrollment across all sectors decreased by 6.94 percent – from 337,847 in school year 2022-2023 to only 314,412 in 2023-2024.
These include a reduction of 6.86 percent in public schools and 7.92 percent in private schools.
Negros Occidental Governor Eugenio Jose Lacson said he is trying to figure out why school enrollment has dropped this year.
"I also don't understand the situation, what happened. It's not good especially when you're in an age where you're supposed to be in school. I hope that would be corrected soon," he added.
Meanwhile, SDO-Bacolod reported a drop of 7.12 percent – from 154,715 to 143,696; SDO-Bago, 10.33 percent – from 45,930 to 41,184; SDO-Cadiz, 7.75 percent – from 44,691 to 41,229; SDO-Escalante, 10.33 percent – from 27,727 to 24,683; and SDO-Himamaylan, 8.26 percent – from 31,802 to 29,176; SDO-Kabankalan, 7.67 percent – from 60,403 to 55,772.
SDO-La Carlota recorded as well an enrollment decrease of 6.8 percent – from 19,343 to 18,027; SDO-Sagay, 5.27 percent – from 43,806 to 41,499; SDO-San Carlos, 7.5 percent – from 35,750 to 33,068; SDO-Silay, 6.8 percent – from 34,345 to 32,010; SDO-Sipalay, 16.29 percent – from 23,769 to 19,898; and SDO-Victorias, 10.68 percent – from 26,891 to 24,020. (PNA)