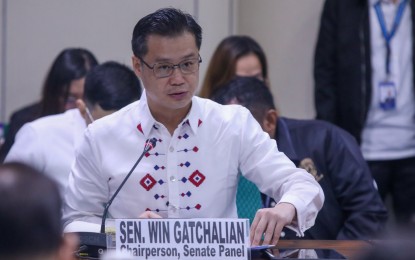 MANILA – Senator Sherwin Gatchalian is seeking stiffer penalties against individuals selling registered Subscriber Identity Modules (SIMs) that are eventually used in various cybercrime activities.
The senator made the call following a revelation made by the National Bureau of Investigation (NBI) Cybercrime Division Chief, Jeremy Lotoc, that registered SIMs are being sold openly on various social media platforms.
Lotoc also revealed that his team has successfully registered with unnamed telecommunications operators' SIMs using the photograph of a smiling monkey, which indicates that unscrupulous individuals are able to skirt around the new legislation mandating SIM registration in order to verify identification.
Gatchalian said criminal groups have taken advantage of the fact that registered SIMs are being sold openly. It has accumulated tens of thousands of SIMs which were later used in various investment, cryptocurrency, and love scams. Such groups include those fronting as Philippine Offshore Gaming Operators (POGOs), he surmised.
"The basic objective of the law is that if we register the SIM, there will be accountability meaning you can go after the registered person if needed because the anonymity is creating a lot of problems," he emphasized.
Under Republic Act 11934 or the Subscriber Identity Module Registration Act, those who use fictitious identities or fraudulent documents to register a SIM card will be slapped with a prison sentence ranging from six months to two years and a fine of PHP100,000 to PHP300,000.
The law took effect in December last year, mandating all SIM owners to register their mobile phone numbers. The mandatory SIM registration was eventually extended up to July 25 this year.
"There should be some form of post-validation if it's not automatic, so we can establish who is accountable for that post-validation. We cannot allow horses, monkeys, and gorillas to be registered. If we are not going to do something, this will happen over and over again," Gatchalian said.
According to Gatchalian, telco providers should also put in place an effective post-validation mechanism to determine the veracity of a SIM user's details. (With a report from Leonel Abasola/PNA)