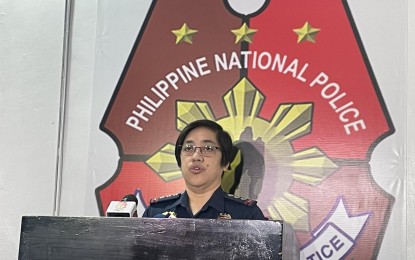 MANILA – Two alleged accomplices in the killing of a village chief seeking reelection in the upcoming Barangay and Sangguniang Kabataan Elections (BSKE) in Taal town in Batangas province were arrested, a police official said on Wednesday.
Speaking to reporters in Camp Crame, Quezon City, PNP spokesperson Col. Jean Fajardo said the two were arrested in an operation launched shortly after Barangay Poblacion 10 chair Erasmo Hernandez was gunned down in front of the barangay hall at about 7:20 a.m. Tuesday.
"We talked to the Batangas Police Provincial Director and he reported to me the arrest of the two accomplices. They were caught on CCTV footage. The police were able to track the motorcycle used by the assailants and upon checking the CCTV footage, it showed the area where the assailants left the motorcycle, their clothes, and the helmets used. Those arrested were the ones who kept the suspects' stuff and they were already charged," she added.
Fajardo, however, declined to give more details as follow-up operations were ongoing.
"We have yet to determine the motive but we can't rule out that it could be related to the elections or a possible ERI (election-related incident) because it happened during the election period and this victim is a barangay official," she said.
Hernandez, who sustained multiple gunshot wounds in the head and body, was declared dead at the Lemery Doctors Hospital.
A police report said the suspects used a caliber .45 pistol in the attack and fled towards Sta Teresita town, also in Batangas, after the shooting.
Hernandez was running for a second term as barangay chairman against a relative who is a councilor of the barangay.
Fajardo, however, noted that the two candidates had good ties.
Hunt vs. fugitive Teves
In the same briefing, Fajardo said the PNP is in close coordination with the International Criminal Police Organization (Interpol) for the possible arrest of expelled Negros Oriental 3rd District Rep. Arnolfo Teves Jr.
A Manila court on Tuesday handed down a warrant of arrest against Teves and three others for the killing of Governor Roel Degamo and nine others in March.
Fajardo said putting Teves under arrest would be a challenge considering he is out of the country.
Teves is reportedly in Timor Leste where he sought asylum, which was denied.
Fajardo said the Philippines does not have an extradition treaty with Timor Leste.
"Alam naman natin na designated as terrorist si Congressman Teves at nag-aantay tayo ng advice sa DOJ (Department of Justice) sa mga designation as terrorist would somehow help us in pursuing our case including service of WOA (warrant of arrest), including his co-accused in this case (We already know that Congressman Teves has been designated as a terrorist. We are waiting for advice from the DOJ on how to go about this and this would somehow help us in pursuing our case, including the service of WOA to his co-accused)," she said.
Fajardo said the Criminal Investigation and Detection Group has also formed tracker teams to locate Teves' co-accused. (PNA)