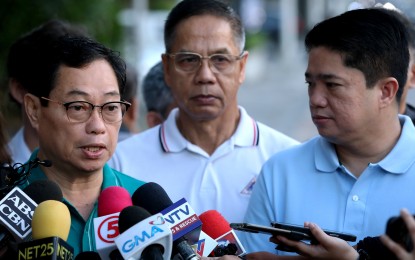 MANILA – The Metropolitan Manila Development Authority (MMDA) is eyeing adjustments to ease the traffic flow along Katipunan Avenue in Quezon City, where several universities are situated, to address the worsening rush-hour congestion in the area.
MMDA General Manager Procopio Lipana inspected Katipunan Avenue on Thursday morning.
"We are looking at adjusting Ateneo de Manila's entrance gate for vehicles without stickers to accommodate more vehicles that would lessen traffic congestion in Katipunan Avenue," Lipana said.
To further improve traffic flow, he said the service road near Ateneo Gate 2 (from Marikina) -- currently used exclusively by pedestrians -- may be opened for vehicles.
Lipana said there are three lanes from northbound that turn left to enter the Ateneo area, which are affecting other vehicles going south.
"We are also mulling on limiting the lanes they use into two during rush hours by putting traffic cones," he said.
Data from the MMDA Traffic Engineering Center (TEC) recorded a daily average of 2,757 vehicles passing through Katipunan Avenue going northbound to Commonwealth Avenue from 7 a.m. to 8 a.m., while 6,636 vehicles were going southbound to Aurora Boulevard.
During afternoon peak hours from 5 p.m. to 6 p.m., 4,854 vehicles were recorded going northbound while 5,697 were traveling southbound.
The MMDA TEC also noted a 32-percent increase in vehicle volume in the southbound portion of the area in the morning, and a 24-percent increase in the afternoon from May to August this year.
Last week, MMDA held a consultative meeting with officials from Ateneo de Manila University, Miriam College and the University of the Philippines Diliman to discuss traffic plans in the area.
The three schools expressed cooperation in easing traffic flow in their respective areas. (PNA)