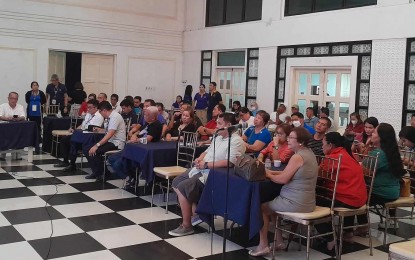 ILOILO CITY – Most of the members of two farmers' associations in Iloilo support the price cap on regular and well-milled rice mandated by Executive Order (EO) 39.
Ireneo Sampani, president of the Inaca Integrated Farmers Association based in Cabatuan town, said eight out of 10 farmers support the EO even if it resulted in a drop in the farm gate price of palay.
"We have to support it because that is the order. Some of our members are into vegetable farming… so they can benefit from the price cap when they buy rice," he said in the vernacular during an interview on Thursday.
He added before the EO, rice traders bought their palay at PHP20 per kilogram, but it dropped to PHP17 per kilo and further to PHP15 a kilo.
Meanwhile, Tinocuan Integrated Farmers Association president May Lea Deala of Dingle town, said the government should go after traders hoarding palay and for the National Food Authority (NFA) to reach out to farmers.
She said since traders have capital, they buy in volumes and release them during the lean months of July, August, and September.
Deala said she mills the extra stocks of palay and sells or lends them to her members instead of selling them to traders.
"This is just temporary to ease the situation. We are not choosy when it comes to rice; we are okay with the regular milled," she said..
The cap, she said, somehow arrested the soaring prices of rice.
Deala said the Integrated Farming System they learned from the Department of Agriculture (DA) also helped because they did not just depend on one commodity and had other crops and livestock to sell to support their needs.
On Wednesday, Iloilo Governor Arthur Defensor Jr., DA Regional Executive Director for Western Visayas Dennis Arpia, and an NFA representative met with rice traders, retailers, and importers to explain the reason for the EO, solicit their support, and talk about balancing its impact to affected stakeholders.
Defensor said the local price monitoring councils are already monitoring and profiling the harvest and supply and not only the compliance of traders with the EO. (PNA)