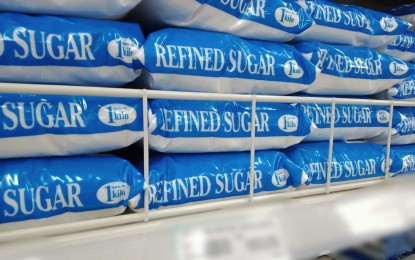 MANILA – The Sugar Regulatory Administration (SRA) on Thursday said sugar prices in the country have been stable since February.
"On the retail side we've seen a very stable retail price from February, it went down to (a range of) PHP85 to PHP110 and based on monitoring of the Department of Agriculture's (DA), it remains at PHP85 to PHP110 since February up to now," SRA acting administrator Pablo Luis Azcona said in an interview at the sidelines of the 2023 Sustainable Agriculture Forum in Makati City.
He said this is also the case for the farmgate price of both raw and refined sugar which is at PHP60 per kilo or PHP3,000 per 50-kilo sack.
Azcona said they are "being pressured" to lower the farm gate price despite stable market prices of the commodity.
"However, we are pressured to lower farm gate prices but the people who are pressuring us should also understand that diesel prices have gone up so much, farm inputs have gone up, labor has gone up. So there's only a threshold where you have a lower farm gate for the local producer unless the local producer becomes highly mechanized and has total disregard for social responsibility and farm workers then we can lower the price," he said.
Azcona, however, said they are hoping to hit a farmgate price of PHP60 per kilo in the first price bidding on Sept. 14 -- which is lower than the average farmgate price at PHP62 last year.
"Sugar Order (SO) No. 6, that is 420,000 metric tons (MT) have arrived. The withdrawals I think, if I remember it right, did not reach 200,000 MT so there are more stocks. We have a buffer, so the SO 7 that arrived is about 30,000 MT more or less so that's 150,000 MT and there are more coming," he said.
He said the country would have a two-month buffer stock of sugar as the milling season has begun.
"So, usually once we start milling a month or so after that, the refineries will start running as well and so we will have refined sugar," he added. (PNA)