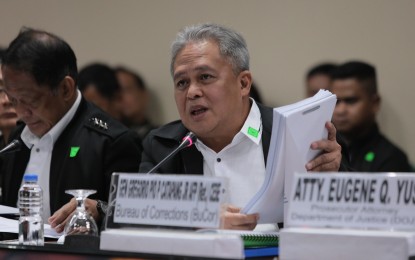 MANILA – Prison officials are eyeing expanded programs including faith-based rehabilitation, work skills and sports to rehabilitate and retrain persons deprived of liberty (PDLs) before their eventual release back to society.
In a statement on Thursday, Bureau of Corrections director general Gregorio Catapang Jr. said the programs are believed to have contributed to the drastic reductions of the number of escapees from prison.
These programs cover moral and spiritual values formation to promote a God-fearing community in the prison set-up conducive to a peaceful environment.
Faith-based rehabilitation reduced anxiety and depression and also reduced antagonism or aggression among inmates, according to BuCor.
BuCor is also eyeing education, training and work and livelihood programs from agricultural to industrial skills.
The programs also include active behavioral modification to modify offender behavior in a family-like environment and a sports and recreation program to promote camaraderie, sportsmanship, discipline, unity and team building among inmates.
Activities include daily morning calisthenics as well as various indoor and outdoor sports activities, programs, tournaments and leagues all year round, including basketball, volleyball, billiards, table tennis and chess.
Catapang vowed to fix the problems he inherited at the BuCor before the end of the term of President Ferdinand R. Marcos Jr. and Justice Secretary Crispin Remulla.
Catapang reported that under his administration, at least 1,000 DPLs have been transferred to Iwahig Prison and Penal Farm in Palawan and Sablayan Prison and Penal Farm in Mindoro as part of the current thrust in decongesting New Bilibid Prison in Muntinlupa City.
Another 4,150 PDLs will be transferred to Davao Prison and Penal Farm upon completion by the end of this year the new facilities being constructed there.
A total of 5,602 PDLs were released from detention from November 2022 to August 2023 as part of the "Bills Laya Program" and as part of "Operation Oplan Baklas," 2,812 Kubols particularly the walling were dismantled eliminating PDL's individual sanctuary, exposed hidden contraband and monitored PDLs activities in plain sight. (PNA)