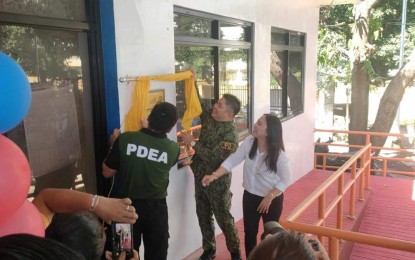 MALASIQUI, Pangasinan – The ninth Balay Silangan Reformation Center in Pangasinan was inaugurated on Thursday in San Quintin town, intended for drug peddlers voluntarily surrendering to authorities and availing of plea bargain agreements.
In a phone interview, Philippine Drug Enforcement Agency Pangasinan director Retchie Camacho said the reformation center would house 40 surrenderers and would help the town achieve the 100-percent drug–cleared status of all its 21 barangays.
"At present, the percentage of drug-cleared barangays in the town is at 90 percent. Kaya may Balay Silangan kasi may mga affected barangays pa at need i-enroll ang street-level pushers (That is the purpose for the Balay Silangan for the affected barangays that need to enroll street-level pushers)," he said.
"The local government of San Quintin promised to enroll the surrenderers and that they will provide the needed intervention for them," he added.
Camacho said the surrenderers would stay at the Balay Silangan for one month for an in-house program and the continuous monitoring outside of the center would be conducted for another two months before they graduate from the program.
The program includes a month-long mandatory stay at the center to take part in education, health, psychosocial and physical activities. The remaining two months will be spent on the livelihood or employment education phase of the program.
Balay Silangan is a requirement for every local government unit (LGU) in the country to attain a drug-cleared status.
Other Balay Silangan facilities are operating in San Carlos City and the towns of Sison, Basista, Asingan, Umingan, San Fabian, Balungao and Manaoag. In total, 109 beneficiaries have so far graduated from these facilities.
Camacho said they are just waiting for the formal inauguration of the facility in Dagupan City and in San Jacinto town. Once the two are inaugurated, the number of the province's Balay Silangan facilities will rise to 11.
He said LGUs that are struggling to put up their own Balay Silangan may opt to enter into a memorandum of agreement with other LGUs to accommodate their surrenderers and begin the process of drug-clearing their localities.
Pangasinan has 44 towns and four cities. (PNA)