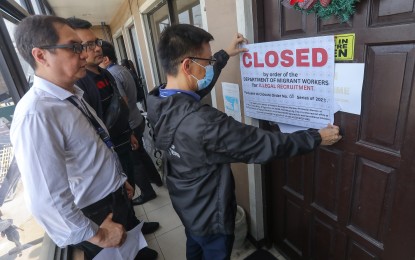 MANILA – The Department of Migrant Workers (DMW) has shut down another consultancy firm found to be offering fake jobs overseas.
On Thursday, DMW Officer-in-Charge Undersecretary Hans Leo Cacdac, together with Undersecretary Bernard Olalia, head of the DMW's Licensing and Adjudication Services cluster, Assistant Secretary Francis de Guzman, and lawyer Geraldine Mendez, Chief of the Migrant Workers Protection Bureau (MWPB), raided the office of RTM Maritime Consultancy Services Corp. at the 2nd floor of the J & P Building along Ninoy Aquino Avenue in Santo Niño, Paranaque City.
They were assisted by the Parañaque City police and the officials from Barangay Sto. Niño.
Cacdac said the DMW received several emails early this year complaining about the RTM Maritime Consultancy agency.
He cited victims "Ernesto" and "Dindo" who sent separate emails to the department narrating their experience.
Cacdac said "Ernesto" was promised by RTM a job as Chief Cook onboard a container vessel in Dubai with a monthly salary of USD900 (PHP51,300).
"Ernesto" was asked to pay by the consultancy firm a total of PHP105,000 as consultancy fees for finding him an overseas job.
Meanwhile, "Dindo" applied for the position of Engine Cadet with a promised monthly salary of USD350, or approximately PHP20,000, and was asked by RTM to pay a consultancy fee of PHP140,000 for the job placement.
Both "Ernesto" and "Dindo" applied for their alleged jobs in the first quarter of 2023.
However, several months have passed but they have not been deployed yet despite having paid the consultancy fee, and so they decided to file their complaints with the DMW.
The DMW conducted initial surveillance operations of RTM's activities in March while a follow-up surveillance operation was undertaken in June to bolster the case against the agency.
Cacdac said RTM does not have a valid license or accreditation from the department.
He said RTM received and processed applications and referred these to its partner manning agency, and collected consultation fees ranging from PHP105,000 to as much as PHP140,000 from their applicants who were promised fake jobs as seafarers in Dubai, despite a no placement fee policy for seafarers.
RTM officers and personnel will be charged with illegal recruitment, the DMW said.
The DMW is also urging other victims of RTM Maritime Consultancy Corp. to visit the MWPB so they may be assisted in filing their complaints and cases against the illegal recruitment agency. They may also be contacted through their Facebook page at https://www.facebook.com/airbranch or email at [email protected] and also through their hotline number 8721-0619.
"We cannot allow these unlicensed agencies posing as 'consultancy firms' to continue offering supposedly lucrative job postings to our overseas Filipino workers (OFWs) and goading them to pay excessive amounts of money. This is criminal and unconscionable," Cacdac said. (PNA)